BACON OR SAUSAGE WAFFLES
Posted On 30 มกราคม 2020
THE LITTLE BLUE WAFFLE WAGON ladies roll their waffles in a manner reminiscent of burritos. The waffles emerge from the order window dusted with powdered sugar and sheathed in blue-and-white checkered tissue. I'm keen on this meaty recipe, inspired by Andrea and Emmy, but the waffle ladies also take plain waffles and smear them with lemon curd, vanilla ginger pear compote, or whipped and sugared cream cheese, too.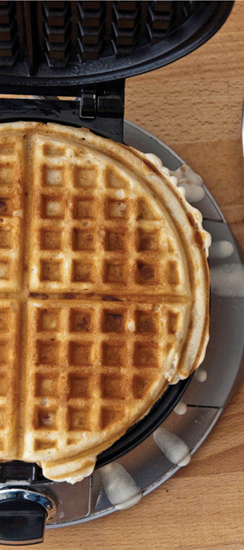 MAKES 4 WAFFLES
2 cups all-purpose flour
3 tablespoons granulated sugar
1 teaspoon baking powder
½ teaspoon baking soda
1 teaspoon salt
3 large eggs, lightly beaten
4 tablespoons (½ stick) butter, melted and cooled slightly
2 cups buttermilk
Vegetable oil spray (optional)
½ pound bacon or sausage, cooked and crumbled
Combine the flour, sugar, baking powder, baking soda, and salt in a large mixing bowl and whisk to mix thoroughly.
Place the eggs and butter in another mixing bowl and whisk to combine. Whisk in the buttermilk. Pour the buttermilk and egg mixture into the bowl with the dry ingredients and stir gently until combined. Let the batter rest for a few minutes.
Heat a waffle iron following the manufacturer's instructions and, if necessary, lightly coat the surface with vegetable oil spray to prevent the waffles from sticking. Stir the crumbled bacon or sausage into the waffle batter (you could add both). Pour one quarter of the waffle batter into the waffle iron, close it, and cook the waffle until both sides are golden brown, about 5 minutes. Repeat with the remaining batter. (Apologies for insulting your intelligence; recipe conventions dictate that I tell you that.) Keep the waffles in a warm oven until ready to serve.
LITTLE BLUE WAFFLE WAGON

ANDREA HAWK AND EMMY ERVIN are lapsed waitresses who decided, after slinging hash and eggs for years, that they would make a

living by cooking as well as slinging. In July of 2008 they bought a Shasta, one of those teardrop-shaped campers that you pull behind a pickup. And they parked it in a gravel lot between a lighting store and a psychologist's office.

In the grand Portland tradition, they staked their business on waffles—and on coffee from the local Stumptown Coffee Roasters. Working three irons, set on what was once the camper's bunk bed platform, they dish waffles through a small window to regulars who gather in the gravel lot to eat on 1950s–era TV trays.