CHICKEN MUGS
Posted On 23 สิงหาคม 2020
CORNSTARCH IS THE KEY in this recipe, inspired by Keiko Naka at Ton-Ton Japanese Food Cart. Frying in a cornstarch batter yields a fine-grained crust that is shatteringly crisp and, compared to some thick-skinned Southern-style chicken, fairly innocuous. The ginger supplies a subtle heat. If you want more fire, reach for a Korean-style chile paste.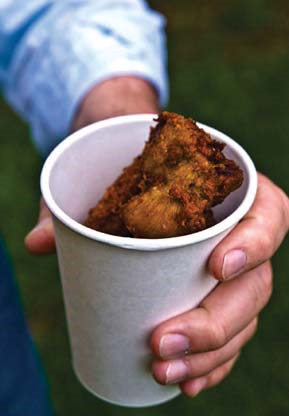 SERVES 4
2 cloves garlic, minced
2 teaspoons grated peeled fresh ginger
2 tablespoons soy sauce
1 teaspoon granulated sugar
16 chicken wing drummettes (the meaty portion of the chicken wing)
1 cup cornstarch
Peanut oil, for frying the chicken
YOU'LL ALSO NEED
Four 8-ounce paper coffee cups, for mugs
Combine the garlic, ginger, soy sauce, and sugar in a large mixing bowl. Add the chicken drummettes, stir to coat well, and let marinate in the refrigerator, covered, for at least 1 hour.
Place the cornstarch in a shallow bowl and dredge the chicken drummettes in it.
Pour oil to a depth of 2 inches into a cast-iron skillet and heat over high heat until it registers 350°F on a deep fry thermometer. Working in batches and being careful not to overcrowd the skillet, carefully add the drummettes to the hot oil and cook until golden brown, 5 to 7 minutes. Using a slotted spoon, transfer the cooked chicken drummettes to paper towels to drain.
Place 4 drained chicken drummettes in each of 4 paper coffee cups so that you can ambulate and eat. For drivers, they fit in cup holders, too.
LAST SEEN
Market Street at 33rd Street, Philadelphia, Pennsylvania

TON-TON JAPANESE FOOD CART

Keiko Naka, the pigtailed proprietor of Ton-Ton Japanese Food Cart, was born in Tokyo. When I met her, she was wearing a white shirt and a blue apron and wielding a pink-handled knife. Her cart looked Hello Kitty cute. Her sign, rendered in a flourish of black, calls to mind both restrained calligraphy and exuberant graffiti.

For grab-and-go, Keiko sells onigiri—cellophane-wrapped triangles of seaweed stuffed with hashed tuna, mayo, and salted rice. I ordered a curried rice omelet and a fried chicken "mug."

Standing in line with a paper cup full of marinated fried chicken elegantly hacked into serving pieces, I learned that ton-ton is Keiko's take on the sound a cleaver makes when hitting a cutting board.