TAIWANESE FRIED CHICKEN
Posted On 29 สิงหาคม 2020
THE KOREAN-STYLE FRIED CHICKEN served in the second-story restaurants and karaoke taverns that line 32nd Street, the Main Street of New York City's Koreatown, has won attention of late. The chicken is usually fried twice, in the manner of Belgian frites. And the resulting crust is papyrus thin. But Korea is not the sole Asian country with a knack for fried bird. Witness this Taiwanese riff, inspired by the good folks at the NYC Cravings truck.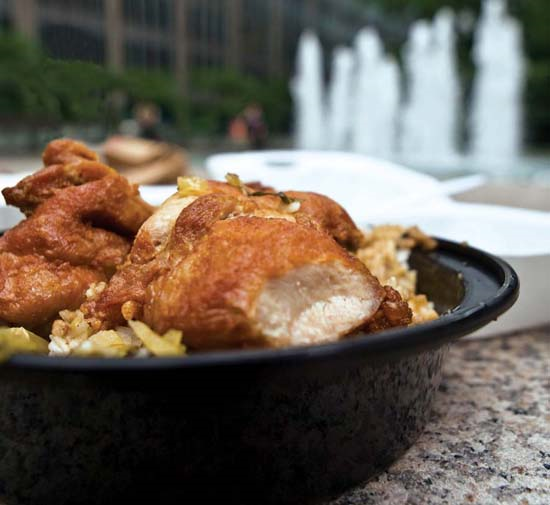 SERVES 4
1 cup soy sauce
¼ cup mirin (sweet rice wine)
3 tablespoons granulated sugar
2 tablespoons minced garlic
2 tablespoons Chinese five-spice powder
2 teaspoons freshly ground black pepper
1 whole chicken (about 3 pounds), quartered
2 egg yolks
½ cup cornstarch
2 cups sweet potato starch (see Note)
2 tablespoons garlic powder
Peanut oil, for frying the chicken
Cooked rice, for serving
Taiwanese Pork Sauce (optional, recipe follows), for serving
Combine the soy sauce, mirin, sugar, garlic, 1 tablespoon of the five-spice powder, and the pepper in a large bowl. Add the chicken to the soy sauce mixture, turning it to coat all sides. Let the chicken marinate, covered, in the refrigerator overnight.

Beat the egg yolks with the cornstarch in another bowl. Add the yolk mixture to the bowl with the chicken and stir to mix well.

Place the sweet potato starch, garlic powder, and the remaining 1 tablespoon of five-spice powder in a large shallow bowl and stir to mix. Working with one chicken quarter at a time, dredge the chicken in the sweet potato starch mixture and let sit for a few minutes.
Pour oil to a depth of 2 inches into a cast-iron skillet and heat over high heat until it registers 350°F on a deep fry thermometer. Working in batches and being careful not to overcrowd the skillet, carefully add the chicken quarters to the hot oil and cook, turning once, until golden brown and cooked throughout, about 12 minutes. Using tongs, transfer the cooked chicken to paper towels to drain. Serve the chicken over the rice with the pork sauce, if desired.
NOTE: You can find sweet potato starch at Asian markets.
LAST SEEN
24th Street between Park Avenue and Madison Avenue, New York, New York

NYC CRAVINGS

In the summer of 2009, twenty-somethings Thomas Yang, his sister Diana Yang, and their friend Eric Yu retrofitted an Italian bread truck, painted it cream with a bamboo green trim, and rolled it out under the banner NYC Cravings. Their trope was Taiwanese food. Their specialty was Taiwanese fried chicken.

As interpreted by NYC Cravings, fried chicken is a dark-meat quarter bird, marinated in five-spice powder and soy sauce, cooked in deep, roiling oil, served over rice, and swamped with a "secret pork sauce." Nestled on the side in that same foam clamshell is a hash of soured cabbage, which ameliorates what little grease lingers on the bird.

They offer dumplings too, but these are no match for the gut punch of that Taiwanese fried chicken. More recently, NYC Cravings has added zongzi, a bamboo leaf–stuffed tetrahedron of glutinous rice pocked with, among other items, peanuts, sweet Chinese sausage, and dried shrimp.