GRILLED CHEESE CHEESEBURGER
Posted On 20 พฤศจิกายน 2020
THE BRUNCH BOX does not have a lock on the grilled cheese cheeseburger market in Portland. Also working that schtick is The Grilled Cheese Grill, where the kitchen is set in a 1968 travel trailer and seating is in a school bus fitted with booths and a counter. Their grilled cheese cheeseburger is called the Cheesus. I prefer this recipe, which comes from the repertoire of Ryan and Ariana at the Brunch Box.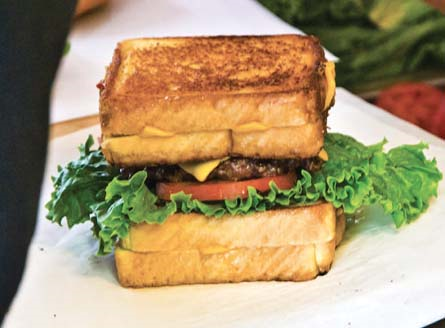 MAKES 1 SANDWICH
¼ pound ground beef
About 2 tablespoons canola oil
Salt and freshly ground black pepper
4 slices Texas toast (see Note)
3 slices American cheese, at room temperature
1 green lettuce leaf
1 slice ripe tomato
2 tablespoons yellow mustard
Shape the ground beef into a thin patty. Heat a small amount of oil in a griddle or skillet over high heat. Add the beef patty and, using the edge of a thin metal spatula, quickly score the top of the patty in a crisscross pattern. (Do this immediately, while the meat is still pink, or not at all.) Don't press down on the patty, or it will dry out.
Let the patty cook for a of couple minutes before seasoning it with salt and pepper. The goal as you cook is to flip the burger only once. Cook it for 2 to 3 minutes on one side; the edge should brown first. When it looks good, turn the patty over and place a slice of cheese on top to melt. Cook the patty on the second side until done to medium and slightly seared, 2 to 3 minutes.
While the patty is cooking, pour a small amount of oil in another skillet to heat or on a different area of the hot griddle. Add the slices of Texas toast and put a slice of cheese on top of 2 of the 4 slices. Once the cheese has melted, place a plain slice of toast, toasted side up, on each cheese-covered slice to form 2 grilled cheese sandwiches. Remove the sandwiches from the grill and set them aside.
When the grilled cheese sandwiches have cooled a bit, arrange the lettuce leaf and tomato slice on top of one grilled cheese sandwich. Smear mustard on top of the second sandwich. Place the burger on top of the tomato slice and cover it with the second grilled cheese sandwich, mustard side down.
NOTE: Texas toast is white bread cut in slices that are double the thickness of regular bread slices. The "toast" part happens when both sides of the bread are smeared with butter or oil and toasted or griddled.