KALBI BEEF SLIDERS
Posted On 18 พฤศจิกายน 2020
KALBI-BEEF SHORT RIBS, marinated in a mix of soy sauce, garlic, sesame oil, and sugar (among other ingredients) is traditionally grilled over a charcoal flame and snipped into serving pieces with kitchen shears. Usually diners wrap kalbi inside lettuce leaves along with steamed rice, some garlic, and lengths of scallion. This slider riff was inspired by KOi fusion.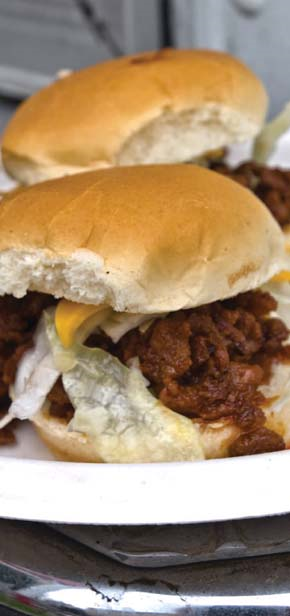 MAKES ENOUGH FOR 6 SLIDERS
FOR THE BEEF
1 pound beef rib eye, thinly sliced
2 tablespoons brown sugar
2 tablespoons soy sauce
1 tablespoon mirin (sweet rice wine)
2 teaspoons Asian (dark) sesame oil
2 teaspoons minced garlic
1 scallion, both white and green parts, chopped
½ ripe kiwi, juiced in a blender
¼ teaspoon freshly ground black pepper
FOR THE DRESSING AND SLAW
2 tablespoons soy sauce
4 tablespoons rice wine vinegar
½ teaspoon granulated sugar
½ teaspoon salt
½ teaspoon freshly ground black pepper
¼ teaspoon crushed red pepper flakes
2 tablespoons canola oil
1 tablespoon Asian (dark) sesame oil
½ cup shredded cabbage
½ cup shredded romaine lettuce
2 tablespoons chopped scallion
2 tablespoons toasted sesame seeds (see Note)
6 slider buns
Prepare the beef: Sprinkle the beef with the brown sugar and let sit for a few minutes.
Place the soy sauce, mirin, sesame oil, garlic, chopped scallion, kiwi juice, and pepper in a mixing bowl and stir to mix. Add the beef, massaging the marinade into the meat. Let the beef marinate in the refrigerator, covered, for at least 2 hours.
Heat a griddle or cast-iron skillet over medium-high heat. Drain the beef, discarding the marinade, and pat the slices dry with paper towels. Add the beef to the griddle and cook, turning once, until cooked through, 3 to 5 minutes.
Make the dressing and slaw: Place the soy sauce, rice wine vinegar, granulated sugar, salt, black pepper, red pepper flakes, and canola and sesame oils in a blender and blend until well combined.
Place the cabbage and lettuce in a bowl, add the chopped scallion, toasted sesame seeds, and the dressing and toss to mix.
To assemble the sliders, shred the beef and place it in a hot skillet for a few seconds to reheat. Spoon the warm meat onto the slider buns, topping it with some of the slaw.
NOTE: To toast the sesame seeds, set a dry skillet over medium heat (do not use a nonstick skillet for this). Add the sesame seeds and heat them until lightly toasted and aromatic, 3 to 5 minutes. Keep an eye on the sesame seeds; you don't want them to burn. Transfer the toasted sesame seeds to a heatproof bowl to cool.
LAST SEEN
PGE Park, West Burnside Street and SW 20th Avenue, Portland, Oregon

KOI FUSION

MOST PORTLAND STREET FOOD VENDORS work stationary carts and hutches. But Bo Kwon and his partners do business from a sleek truck

hat looks like it rolled straight off the streets of LA. KOi fusion traces its lineage to the LA phenomenon called Kogi. "I called them up and asked about buying a franchise," Bo told me. "They told me that they didn't want to do that kind of thing. But they gave me their blessing. Said I was free to take the general idea and Portlandize it."

Korean-Mexican fusion, as filtered through the Portland experience, means that Bo Kwon's mother makes the various marinades that KOi fusion applies to its short ribs and chicken. And it means that, when you step up to the truck, the young man working the window says, "Hey, glad you're here. What's your name?" KOi fusion styles itself as the antihip answer to LA's Kogi. "This isn't about a scene," Bo said. "This is about good food. This is about the food I grew up on. When I was a little boy, they called me a 'Twinkie.' Yellow on the outside, white on the inside. This is that kind of food."