PEANUT RICE PANCAKES
Posted On 21 มีนาคม 2020
IN SOUTH KOREA they are known as hotteok, Ki Nam, the man who squats behind the cart and smokes cigarettes, told me. Since I first tasted his rice cakes, I've noticed a couple of variations including a dough that's a shade of green, owing to the addition of green tea powder. This recipe, inspired by Koo's Grill, produces a cake that, when bitten, reveals a scalding hot core of molten sugar that will scorch the roof of your mouth. So go slow.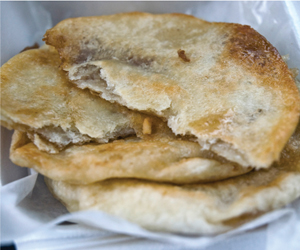 MAKES 8 SMALL PANCAKES
1 teaspoon active dry yeast (from 1 envelope)
2 tablespoons granulated sugar
¼ cup warm water
1 cup all-purpose flour
¾ cup rice flour
½ teaspoon salt
½ cup milk
¼ cup roasted peanuts, chopped
¼ cup packed brown sugar
2 tablespoons honey
½ teaspoon ground cinnamon
About ½ cup vegetable or peanut oil, plus oil for forming the cakes
Place the yeast and granulated sugar in a small bowl or measuring cup. Add the warm water and stir until the sugar dissolves. Let the yeast mixture sit in a warm place until it starts to bubble, about 15 minutes.
Sift the all-purpose and rice flours and salt into a large mixing bowl. Pour the yeast mixture and the milk into the flour mixture and, using your hands, form the dough into a sticky ball. Cover the bowl tightly with plastic wrap and let the dough sit in a warm spot until it doubles in size, about 2 hours.
Place the peanuts, brown sugar, honey, and cinnamon in a bowl and stir to mix. Set the peanut mixture aside.
Punch down the dough and divide it into 8 equal pieces. Rub your hands with oil and form a disk that is about 2½ inches in diameter and ¼ inch thick from one of the pieces. Place 1 tablespoon of the peanut mixture in the center and spread it out evenly. Fold the dough over the filling, pressing the edges to seal it inside and flattening the dough into a free-form disk. Repeat with the remaining dough and filling.
Pour enough oil into a large skillet to just cover the bottom and heat it over medium-high heat. When the oil is hot, add the disks of dough, 1 or 2 at a time, and using an offset spatula that has been rubbed with oil, press down as they cook until they are about ¼ inch thick. Cook the pancakes until golden brown, 3 to 4 minutes on each side, continuing to press on them with the spatula. Transfer the pancakes to paper towels or a wire rack to drain. Repeat with the remaining dough, adding more oil as necessary. Serve the pancakes warm.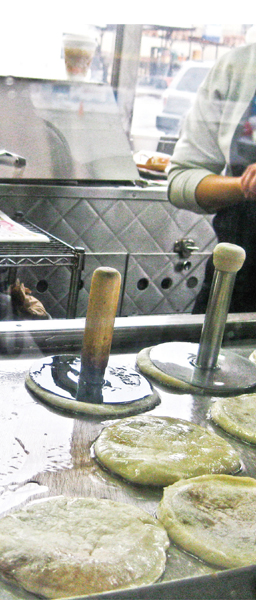 KOO'S GRILL

THE QUILTED metal cart, set alongside the entrance to the California Market in Koreatown, is flanked by a giant vending machine claw game and a drink machine that vends chai lattes.

Rice cakes, those chewy Korean standards, cooked by a crew of Mexican women, are a buck a pop. Think of a round take on Pop-Tarts, filled with a mix of honey, cinnamon, brown sugar, and chopped peanuts. They're cooked on a griddle, smashed flat by a metal device that resembles an air hockey paddle, and tucked in a folded disposable plate that acts as an insulating jacket. These rice cakes may be the best street food deal in America.