SUADERO TACOS
Posted On 25 ธันวาคม 2020
SUADERO IS PROBABLY a slim cut from the beef brisket. Unless it's flank steak. I've studied the Spanish language butcher charts and I'm still not sure. What I am sure of is that at Jarro Cafe suadero reaches its potential by way of a deep citrus marinade. I suggest using flank steak for this recipe inspired by Jarro because brisket is a tough cut—even if you start off with thin slices.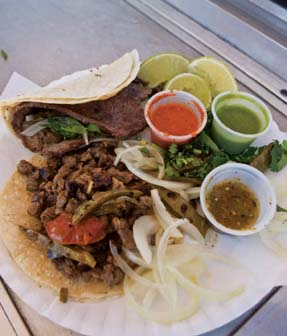 MAKES 12 SMALL TACOS
½ cup freshly squeezed lemon juice
1 teaspoon dried Mexican oregano
2 teaspoons minced garlic
¼ cup plus 2 tablespoons vegetable oil
1 teaspoon salt
1 teaspoon freshly ground black pepper
2 pounds beef flank steak, sliced ¼-inch thick
12 small (4 to 6 inches each) corn tortillas, store-bought or homemade
½ cup chopped white onion
½ cup chopped fresh cilantro
Serrano-Cilantro Salsa (recipe follows), or salsa of your choice
Lime wedges, for serving
Place the lemon juice, oregano, garlic, ¼ cup of the oil, and the salt and pepper in a mixing bowl and whisk to combine well. Pour the marinade into a large resealable plastic bag, add the beef, and massage the marinade into the meat. Press any air out of the bag and seal it, then let the beef marinate in the refrigerator for at least 2 hours or overnight. Turn the bag occasionally to distribute the marinade evenly over the meat.
Heat the remaining 2 tablespoons of oil in a skillet over medium-high heat. Remove the beef from the marinade and discard the marinade. Pat dry with paper towels.  Add the beef to the skillet and sear it on both sides. Reduce the heat to medium and cook the beef until it is no longer pink, 5 to 8 minutes. Transfer the beef to a cutting board and let it rest for about 10 minutes, then chop it.
Heat another skillet over medium heat and warm the tortillas one at a time in the skillet until pliable, about 30 seconds on each side. As you work, wrap the tortillas in a clean kitchen towel to keep them warm.
To assemble the tacos, put equal amounts of beef on each tortilla and top it with some chopped onion and cilantro. Serve the tacos with the salsa and lime wedges.
LAST SEEN
1521 Gessner Road, Houston, Texas

JARRO CAFE

MEMO PINEDA, born in Mexico City, made his name stateside by building a better taco. When he opened his first cart in 2001 he sourced superior ingredients like sirloin for his carne asada, instead of the more common flank steak, and developed a rainbow of salsas, which he displayed in molcajetes stationed on the bar that folded down from the side of the trailer. (Now the salsas are poured from plastic bottles stationed on the same shelf.)

Memo takes his cues from the fast casual end of the American restaurant business. He dresses his employees in uniforms. And he painted his truck a glossy black, eschewing the typical folksy murals and cartoon characters. He now owns a restaurant, too, set in a former Pizza Inn. The walls are covered with Beatles posters. A Little Red Wagon hangs from the ceiling, in the manner of a T.G.I. Friday's. But he keeps the trailer out front. He calls it his "drive-thru window."