MULITAS CARNITAS
Posted On 10 มกราคม 2021
THE WORD CARNITAS translates from the Spanish as little meats. And the meat here is pork. In Mexico, traditional cooks prepare carnitas in giant copper pots. In America, Crock-Pots are commonly used. In this recipe, inspired by El Camión, a hint of citrus cuts what little greasiness lingers. And, in case you're wondering, mulitas might best be understood as sandwich-style tacos.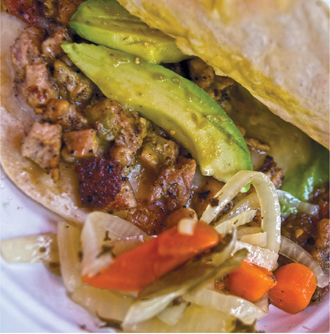 MAKES 6 SMALL MULITAS
2 tablespoons vegetable oil
2 pounds pork shoulder, cut into large chunks
1 quart beef broth
2 cups chunky tomato salsa
1 tablespoon salt
1 tablespoon freshly ground black pepper
12 small (4 to 6 inches each) corn tortillas, store-bought or homemade (page 87)
1 cup shredded Jack cheese
1 avocado, peeled, pitted, and sliced
Lime wedges
Heat the oil in a large saucepan over medium-high heat. Add the pork and cook, turning once, until browned, 4 to 5 minutes. Add the beef broth, salsa, salt, and pepper, and enough water to cover the meat. Bring to a boil and then cover the pan, reduce the heat, and let simmer until the meat is falling apart, 3 to 4 hours. Let cool a little bit, remove the meat from the pan, and discard the cooking liquid.
Heat a skillet over medium heat and warm the tortillas one at a time in the skillet until pliable, about 30 seconds on each side. As you work, wrap the tortillas in a clean kitchen towel to keep them warm. Coarsely chop the meat, then add it to the skillet and cook it until the meat is heated through and the edges caramelize.
Working in batches if necessary, assemble the mulitas: Place a tortilla on a hot griddle or skillet and sprinkle some cheese over it. Let the cheese melt a little, then put some meat on top of it. Arrange avocado slices on top of the meat and squeeze lime juice over the avocado and meat. Top each mulita with another tortilla, carefully flip them, and toast until the cheese is melted and the bottom tortillas are beginning to brown, 3 to 5 minutes. Repeat with the remaining tortillas, cheese, meat, and avocado slices.
LAST SEEN
2918 1st Avenue South, Seattle, Washington

L CAMION

"I WAS AT THE HOME DEPOT when I made the connection," El Camión proprietor Scott McGinnis told me. "Working as a builder, I was making a lot of Home Depot runs. And I got to thinking, 'Why am I eating those roller hot dogs three days in a row? I can do better.'"

Scott's response was an homage to traditional Mexican cookery, tucked into a jet-black trailer. "I wanted to make taco truck food more approachable," he said. At the time of this writing, Scott has three locations, one next door to the Home Depot north of town, another in the emerging Seattle SoDo district, a third in Ballard in the northwest part of Seattle.
At the SoDo location, in sight of the Starbucks headquarters, he has installed a foosball table for idling cubicle dwellers. At both locations, he follows the lead of chief cook Anna Osoro, a native of Oaxaca. She's an expert in moles and banana leaf–wrapped tamales and also, by the way, makes a peerless chorizo.

IN 1900 one of every eight people in the world lived in a city. By 2000 the ratio was one of every two. That rapid-paced urbanization has been one of the driving forces behind the American street food phenomenon, too. As American cities have expanded in both population and surface girth, workers have had a harder time returning home for lunch. And they're more inclined to stop off on their way from work and haul dinner home for all.

In years past that reality drove the lunch wagon and diner trade in the northeastern United States. More recently urbanization has been a driving force in areas of the U.S. where Hispanic laborers now provide most of the muscle, as both soccer moms and Jalisco-born landscaping crews alike embrace the taco truck diet.
รับทำเว็บ, รับทำนำเข้าส่งออก