CHEATER SOFT-SERVE ICE CREAM
Posted On 13 กุมภาพันธ์ 2021
WHEN DOUG QUINT AND BRYAN PETROFF of the Big Gay Ice Cream Truck were developing their toppings, they tested recipes with a kind of homemade soft-serve ice cream, which they made in their apartment kitchen. Inspired by their efforts, I made some, too.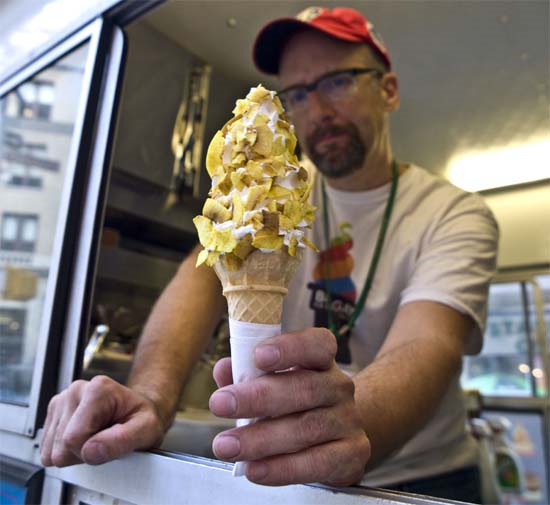 MAKES 4 CUPS
FOR THE ICE CREAM
3 cups vanilla ice cream, slightly softened
1 cup whipped cream (see Note)
2 to 4 tablespoons chocolate syrup (optional)
FOR THE TOPPINGS (OPTIONAL)
Toasted Curried Coconut (recipe follows)
Wasabi Pea Dust Topping
Olive Oil and Sea Salt Topping
Scoop the ice cream into the bowl of an electric stand mixer. Add the whipped cream and, if you like, the chocolate syrup and beat until thoroughly blended. Cover the ice cream tightly, either by placing it in a container with a lid or by wrapping the bowl several times in plastic wrap. Place the ice cream in the freezer for at least 12 hours; it will still be slightly soft after that time. Then, it's ready to eat, with or without toppings.
NOTE: To make 1 cup of whipped cream, pour ½ cup cold, heavy (whipping) cream into a bowl. Add 1 tablespoon sugar and ¼ teaspoon vanilla. Beat with an electric mixer on high until stiff peaks form, about 2 minutes.
oasted Curried Coconut
HERE THE INSPIRATION is Southeast Asia. Doug and Bryan prefer large flakes of coconut over the shredded kind. They say the big flakes have more visual impact, plus you get a stronger, chewier coconut taste. For the recipe, they use a slightly sweet curry powder (Doug and Bryan like Whole Foods house blend muchi curry).
MAKES 2 CUPS
2 cups large-flake coconut
1 tablespoon curry powder, or more to taste
Heat a dry skillet over medium-low heat (do not use a nonstick skillet for this). Add the coconut, then shake the curry powder on top and stir to coat. Taste for seasoning, adding more curry powder, if desired. Cook the coconut until it takes on a golden brown hue, about 2 minutes, stirring often to avoid burning the coconut. Transfer the curried coconut to a pan or heatproof bowl to cool before using it as a topping for ice cream. The curried coconut can be stored in an airtight container for about 2 weeks.
SONGS FOR ICE CREAM TRUCKS: Mister Softee Steps Down

WHEN I LISTEN to Songs for Ice Cream Trucks, the album by Michael Hearst, I hear carnival music. I hear gypsy dirges. I hear a theremin, maybe a tuba. I hear the summertime rattle and trill of a thousand ice cream trucks circling the suburbs of America, selling orange Creamsicles. Hearst's band, One Ring Zero, entered my consciousness when they cut an album, As Smart as We Are, featuring lyrics from novelists like Margaret Atwood, Jonathan Lethem, and Rick Moody. The songs were playful. And they were smart.

Soon Michael—who honed this sort of approach in college when, for his senior recital, he wrote a choral piece that relied upon a recitation of grocery store names—was casting about for his next opus. An ode to ice cream trucks made good sense, he told me, because "Who isn't damn sick of hearing the Mister Softee truck play that one song?"

Out of that simple question came an album of thirteen songs, from the upbeat "The Popsicle Parade" to the ponderous "What's Your Favorite Fla

vor?" to the downbeat "Where Do Ice Cream Trucks Go in the Winter?" Consider it the official soundtrack to the book you now hold in your hands.

Turns out Michael is not alone. Queen Frostine, a vampy New York City collective of female ice cream peddlers, cut some music, too. Not a whole album, but a single. Playing flute on "Ice Cream Girl," a rap, is Andrea Fisher, known to Queen Frostine fans as Fluterscooter. (Like Michael, she's an honest musician whose résumé includes collaborations with 50 Cent and Ian Anderson of Jethro Tull fame.) Genevieve Belleveau, known in the Frostine world as Punky B, contributed the lyrics.

Wasabi pea dust is both vibrant and spicy.
Wasabi Pea Dust Topping
BELIEVE IT OR NOT, this topping from Doug and Bryan isn't as spicy as you would think. The wasabi's heat, combined with a little bit of salt and crunch, makes a great complement to smooth, cold ice cream.
MAKES ABOUT 1 CUP
1 cup wasabi peas
Pulverize the wasabi peas in a coffee mill, spice grinder, or food processor. (This will be loud, says Doug—so loud that your cat will go into hiding.) Bryan likes to make the consistency as close to powder as possible. Doug leaves a little texture and crunch. Use a sifter to sprinkle the wasabi topping on ice cream. The topping can be stored indefinitely in an airtight container.
Olive Oil and Sea Salt Topping
SOFT-SERVE ICE CREAM is a blank slate, the BGICT boys say: "Since the olive oil and sea salt topping is the star, the thing to keep in mind is quality. On the truck we only use high-quality oil and salt. It will cost more, but you don't need to use much, and remember you are trying to spotlight the taste of the toppings."
For the salt, they recommend Maldon sea salt, a flaky salt that is relatively easy to find. They taste tested different olive oils and realized the best for ice cream are not the
earthier oils but the grassy, green finishing ones. Their favorite brand is Bariani, from a small, family-run business near Sacramento, California. Other oils they recommend are La Belle Excuse, from Greece, and Ranieri, from Italy. Add some crunch with a topping of toasted pine nuts.
MAKES 1 SERVING
1 tablespoon high-quality olive oil
Pinch of Maldon sea salt, or another flaky salt
1 cup vanilla soft-serve ice cream
2 tablespoons toasted pine nuts (optional; see Note)
Drizzle the olive oil and crush the salt between your fingers as you sprinkle it over the ice cream. To distribute the flavorings, stir them into the ice cream before eating.
NOTE: To toast the nuts, heat a dry pan over medium-low heat (do not use a nonstick skillet for this). Add the pine nuts and heat them until lightly toasted, fragrant, and golden brown, 3 to 5 minutes. Shake the pan often to avoid burning the pine nuts. Do not overcook them or you'll have a mouthful of cinders. Let the pine nuts cool before sprinkling them over the ice cream.
LAST SEEN
Fifth Avenue and 40th Street, New York, New York

BIG GAY ICE CREAM TRUCK

DOUG QUINT AND BRYAN PETROFF are the men behind the Big Gay Ice Cream Truck. Bryan works a corporate job. Doug is a professional musician in the process of completing his Ph.D. in bassoon performance.

It all began this way: On spring, summer, and fall days, Doug checked out a truck from an ice cream truck depot in Greenpoint, Brooklyn. The depot assigned him a parking place in Manhattan. And he fixed a Big Gay Ice Cream Truck banner to the side of the truck.

The boys vend soft-serve ice cream accessorized with a range of flavors concocted in their apartment kitchen. Toasted coconut, ground wasabi peas—that sort of thing. On the day I tried their olive oil cone, Doug was pouring La Belle Excuse, a Greek green olive oil, over their soft serves.

He was also offering instructions on how to eat a Choinkwich, the flagship BGICT creation. "Treat it like a delicate flower," Doug told me, as I bit into the sandwich of chocolate pinwheel cookies, chocolate ice cream, and bacon chips. "Be gentle, you heathen, be gentle," he said as I savored the lovely interplay of sweet pork and sweeter cream.