HIGH NOON QUESADILLAS
Posted On 5 กุมภาพันธ์ 2021
I ATE QUESADILLAS like these a couple of times. Once at eleven in the evening, while standing outside a downtown Los Angeles bar, another time at high noon, sitting on a curb in Santa Monica. I saw Roy Choi of Kogi cook this dish only once, though—at a CIA conference in Napa, where the Culinary Institute has its California headquarters. Roy wowed an industry crowd with both forethought and technique.
You could argue that pork al pastor, which translates from the Spanish as shepherd's style, is a fusion dish of long heritage in Mexico. One prevailing theory of origin is that Lebanese migrants brought spit-roasted meat with them to Mexico. From there, it was a hop and a skip to Roy Choi's East Los Angeles truck.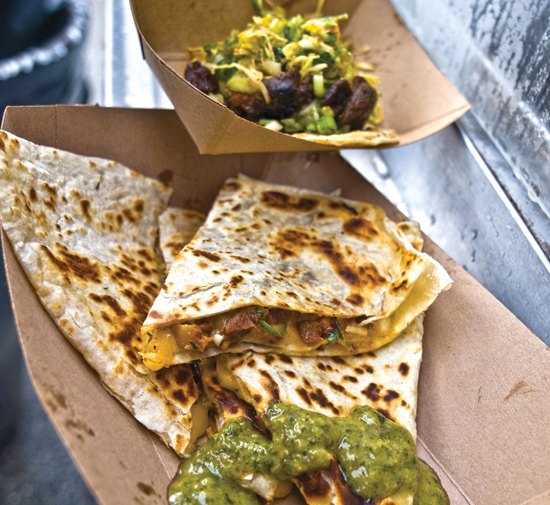 MAKES 4 QUESADILLAS
FOR THE PORK AL PASTOR
6 cups Kalbi Marinade
2 cups kochojang (see Notes)
½ cup kochukaru (see Notes)
3 jalapeño peppers, stemmed and cut in half
½ cup whole cloves garlic, peeled
½ cup granulated sugar
2½ pounds pork butt, sliced 1/8-inch thick
1½ pounds pork belly, sliced 1/8-inch thick
FOR THE QUESADILLAS
2 tablespoons canola oil
4 cups diced onions
4 large (12 inches each) flour tortillas
4 cups grated cheddar Jack cheese
2 cups chopped fresh cilantro
Salsa Verde (recipe follows)
4 teaspoons sesame seeds, toasted (see Notes)
4 lime wedges, for serving
Make the pork al pastor: Combine the kalbi marinade, kochojang, kochukaru, jalapeños, garlic, and sugar in a blender and puree until smooth.
Place the pork butt and belly in a large bowl and pour the marinade over it. Massage the marinade into the pork, as Roy says, "with heart and soul" until fully covered. Let the pork marinate in the refrigerator, covered, for at least 2 hours.
Make the quesadillas: Heat the oil in a cast-iron skillet or on a griddle over medium-high heat. Remove the pork from the marinade, discarding the marinade. Pat dry with paper towels. Cook the pork and onions, turning several times, until the meat is cooked through and the onions are browned, about 8 minutes. Transfer the pork and onion mixture to a bowl.
Place a tortilla in the skillet or on the griddle and arrange 1 cup of cheese on top of the tortilla. Place one quarter of the pork and onions on the cheese and top it with ½ cup of the cilantro. Fold the tortilla in half to cover the filling. Cook the quesadilla over medium heat, turning once, until both sides are browned and the cheese is melted, about 2 minutes per side. Repeat with the remaining tortillas, cheese, pork mixture, and cilantro.
Transfer the quesadilla to a plate and cut into 4 wedges. Drizzle some salsa verde over the top of each. Garnish the quesadillas with the sesame seeds and serve them with the lime wedges.
NOTES: Kochojang, a thick Korean chile paste, is often used as a soup base. Kochukaru, Korean crushed red chile flakes, are used when making kimchi. Both are available at Asian groceries.
To toast the sesame seeds, set a dry skillet over medium heat (do not use a nonstick skillet for this). Add the sesame seeds and heat them, tossing occasionally, until lightly toasted and aromatic, 3 to 5 minutes. Keep an eye on the sesame seeds; you don't want them to burn. Transfer the toasted sesame seeds to a heatproof bowl to cool.
ROADSTOVES: Outfitter to the Truck Food Stars

AT FIVE IN the morning the parking lot behind the Cater Craft, located underneath the Santa Monica Freeway, was jammed with food trucks. Nom Nom Truck, Dogtown Dogs, Asian Soul Kitchen, Yum Yum Bowls, and Baby's Badass Burgers were all there—along with a dozen or so regular old taco trucks and a dozen or more other nouveau trucks.

Parked near the entrance, in the ogle-friendly manner that the valet man at Ma Maison used to park the Rolls-Royces, was the fleet of Kogi food trucks. (Deeper in was the Calbi truck, one of the Kogi imitators, and the Kabob truck, which claims "Mexi-terranean fusion flair.") On the opposite end of the lot was the Cater Craft commissary, where trucks stock up on

everything from ten-pound coils of chorizo, to quart bags of udon noodles, to pouches of instant atole, used to make that masa and chocolate drink.

Cater Craft, founded in 1956, built its business sending food trucks to construction sites. "It used to go like this," proprietor Herman Appel told me. "There would be a construction site in the middle of nowhere with a thousand men working. We'd put three trucks out there, serving burgers, whatever. And we'd make a killing."

A few years back, when construction catering slowed and some of their trucks began to sit idle, Josh Hiller, an attorney, and Morris Appel, son of Herman, conceived RoadStoves. "What we did was flip the trucks," Josh said. "We just rebranded them and sold them to a new audience." In the wake of the Kogi phenomenon, the truck food business had gotten a bit more glamorous, Herman said. "But in the end, it still reminds me of how when two hookers fight for a corner, the stronger one survives."

RoadStoves is now a one-stop shop for the new class of so-called gourmet food trucks. They will lease you a truck. They will gussy up said truck, adding your custom wrap. They will also secure permits and licenses and teach you viral marketing tricks. When your truck breaks down they'll repair it. When you clip a car while taking a tight turn, they'll bend out your bumper.

RoadStoves is quite good at what they do. Based on their work with Kogi, momentum is building. When last I saw Josh, he was plotting expansion of the Roadstoves concept to other markets. Atlanta was tops on his list. And Washington, D.C. was close behind.
Salsa Verde
KOGI WAS VERY GENEROUS with techniques and recipes. They refused few requests. "I can't say what's in our salsa roja," Roy Choi told me. "I got to keep something in my pocket." I didn't have the heart to tell him that I like the green stuff better, anyway.
MAKES ABOUT 2 CUPS
1 cup canola oil
1 cup peeled whole garlic cloves
¼ cup coarsely chopped yellow onion
2 jalapeño peppers, stemmed, seeded, and cut in half
6 bunches fresh cilantro, chopped
¼ cup sesame seeds, toasted (see Note)
½ cup kosher salt
2/3 cup freshly squeezed lime juice
2/3 cup freshly squeezed orange juice
Heat the oil in a small saucepan over medium-low heat. Add the garlic and cook, stirring constantly, until deep brown, 2 to 3 minutes. Set the garlic oil aside and let cool.
Char the onion and jalapeños in a dry cast-iron skillet over medium-high heat until nearly black, 5 to 7 minutes. Remove the onion and jalapeños from the heat and let cool.
When the garlic oil and the onion and jalapeños are cool enough to handle, put them and the cilantro, sesame seeds, salt, lime juice, and orange juice in a blender and puree until smooth. The salsa can be refrigerated, covered, for 1 week.
NOTE: To toast the sesame seeds, see Notes on the facing page.