CHEESESTEAK SANDWICHES
Posted On 20 ตุลาคม 2020
WITH PROVOLONE AND BROCCOLI RABE
AS SERVED IN HOMAGE to Philly by restaurants across this great land, the cheesesteak sandwich may be the most abused regional sandwich. I'm referring to versions made with that insult to protein known as Steak-umm. And I'm talking about versions drenched in the orange liquid goo that industry folks call performance cheese. This recipe, inspired by Mike Datt who once worked at Tony Luke's, corrects some of those wrongs.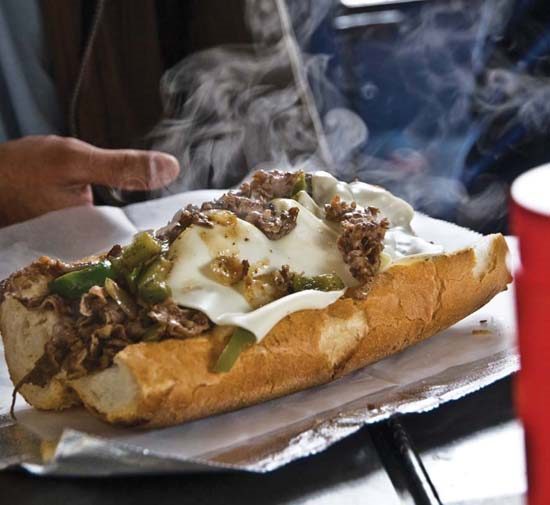 MAKES 4 SANDWICHES
4 tablespoons (½ stick) butter
3 cups thinly sliced onions
2 cups 1-inch pieces broccoli rabe, blanched (see Note)
1½ pounds roast beef cooked rare, thinly sliced and chopped
Salt and freshly ground black pepper
4 Italian sandwich rolls
8 slices provolone cheese
Melt the butter in a large skillet over medium-high heat. Add the onions and cook until lightly browned, about 5 minutes. Add the broccoli rabe and the roast beef and season with salt and pepper to taste. Cook the broccoli rabe and beef mixture until heated through, about 2 minutes.
Preheat the broiler.
Using a knife, split the rolls lengthwise, stopping just short of cutting all the way through. Open the rolls up like a book and divide the broccoli rabe and beef mixture evenly among them, topping each sandwich with 2 slices of provolone. Place the open sandwiches under the broiler until the cheese melts, about 2 minutes.
NOTE: To blanch the broccoli rabe, bring 8 cups of water to a boil. Add the broccoli rabe and cook for 2 minutes. Immediately drain and plunge the broccoli rabe into ice water to stop the cooking, then drain it again. Pat dry with paper towels.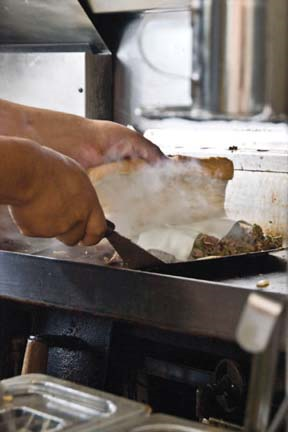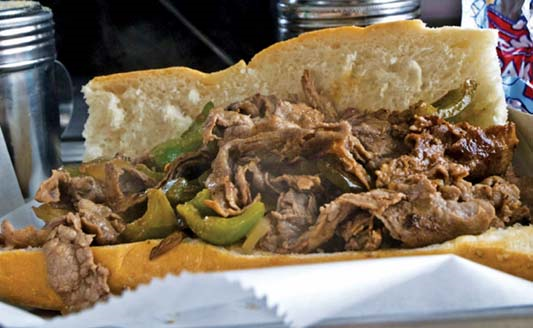 LAST SEEN
Market at 33rd Street, Philadelphia, Pennsylvania

MIKEYD'S GRILL

MIKE DATT was born in New Delhi, India. Prior to opening MikeyD's Grill, his metal hut on wheels, he worked the grill at Tony Luke's, the fabled Philly roast pork stand. During that six-year stint, he learned to rely on sesame-seeded loaves from Sarcone's Bakery, another south Philly institution, in business since 1918.

When I asked Mike about technique and ingredients, he told me that he won't open the cart unless he can get Sarcone's loaves. In years past, Mike said he had to get in line at midnight to get the loaves he needed.

He talked with the same passion about the iron slab on which he cooks. "You know how your mom cooks everything in a frying pan?" he said, in a lilting Indian accent, hardened just a bit by his time in Pennsylvania. "Same with me—I cook everything on the flattop."