GRILLED CHEESE MAC AND CHEESE
Posted On 1 พฤศจิกายน 2020
SANDWICHES
THESE SANDWICHES ARE ABOUT TEXTURE. About the slight chew of the macaroni noodles that lurk beneath shatteringly crisp slices of toast. These sandwiches, inspired by The Grilled Cheese Truck, are about goofball creativity, too—about adding cheese to cheese in an act of righteous excess. Optional additional fillings served at The Grilled Cheese Truck include caramelized onions and pulled pork.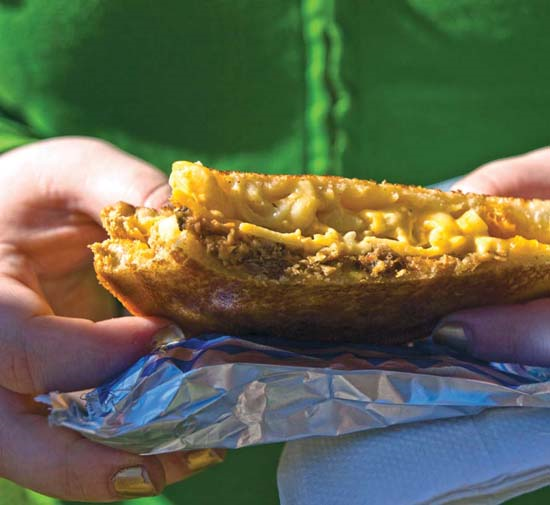 MAKES 2 SANDWICHES
1 tablespoon vegetable oil
4 slices white bread or Texas toast (see Note), toasted
4 slices sharp cheddar cheese
1 cup macaroni and cheese (use your favorite recipe or, God help you, crack open a box)
Heat the oil on a griddle or in a large skillet set over medium-high heat.
Top all the slices of Texas toast with a slice of cheese. Spoon ½ cup macaroni and cheese onto 2 of the slices of bread and top each with one of the remaining 2 slices, cheese side down. Place the sandwiches on the griddle and let cook until the bread is nicely toasted, 2 minutes. Carefully flip the sandwiches and cook on the second side until the macaroni and cheese is warmed through and the Texas toast is golden, 2 minutes more. Reduce the heat if the toast is browning too quickly. To serve, cut the sandwiches in half on the diagonal.
NOTE: Texas toast is just white bread cut in double-thick slices. It's great for toasting.
LAST SEEN
Outside The Brig, 1515 Abbot Kinney Boulevard, Venice, California

THE GRILLED CHEESE TRUCK

"WE'RE MELTING AT THE BRIG." That's a typical tweet blasted into the ether by Michele Grant. Along with Dave Danhi, a chef, she owns The Grilled Cheese Truck. The Brig is a bar in Venice with an accommodating parking lot and, inside, a Jägermeister fountain. Circa 2010 The Brig is the toast of the late night demimonde.

When Michele isn't cooking grilled cheese sandwiches—and serving shot glasses of tomato soup—she advises clients on how to eat healthy diets. (Yes, she's aware of the irony.) When she lets her guard down Michele refers to her sandwiches as glue, the reference being, I assume, to the glue with which night drinkers hold themselves together.