KOREAN SHORT RIBS
Posted On 10 สิงหาคม 2020
WITH KALBI MARINADE
I'M NOT SURE WHAT THE SPRITE in the kalbi marinade does to the short ribs other than establish that the recipe is a thumb of the nose to traditionalists. That said, recipes for barbecued chickens marinated in Dr Pepper are fairly common. And I'm keen on redeye gravy made with Coke instead of coffee.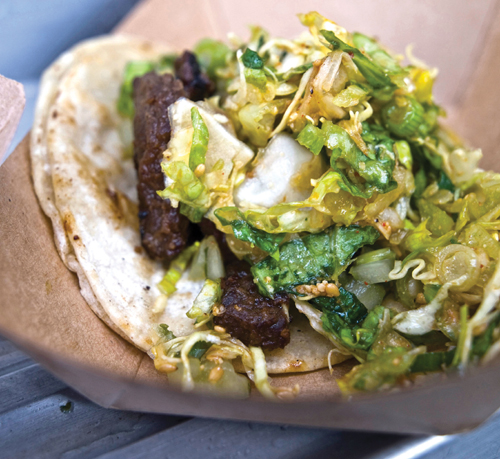 SERVES 4
FOR THE MARINADE
2 cups soy sauce
2 cups maple syrup
1¼ cups granulated sugar
1 yellow onion, peeled and quartered
4 scallions, white and light green parts coarsely chopped
1/3 cup cloves garlic, peeled
1 small kiwi fruit, peeled and cut into large chunks
½ Asian pear, peeled, cored, and cut into large chunks
¾ cup (half of a 12-ounce can) Sprite or 7UP
½ cup freshly squeezed orange juice
1/3 cup Asian (dark) sesame oil
4 tablespoons sesame seeds, toasted (see Notes)
1/3 cup mirin (sweet rice wine)
1½ teaspoons freshly ground black pepper
2½ pounds boneless beef short ribs (see Notes), thinly sliced and lightly trimmed
Make the kalbi marinade: Place the soy sauce, maple syrup, sugar, onion, scallions, garlic, kiwi, Asian pear, Sprite, orange juice, sesame oil, sesame seeds, mirin, and pepper in a blender and puree until smooth. You'll have about 6 cups of marinade. It can be refrigerated, covered, for up to 1 week.
Place the short ribs in a large resealable plastic bag, add the marinade, and massage it into the meat. Let the short ribs marinate in the refrigerator for at least 2 hours.
Set up a grill for indirect grilling. If you are using a gas grill, light only half of the burners. If you are using a charcoal grill, mound the coals on one side of the grate. Preheat the grill to medium.
Drain the ribs, discarding the marinade. Place the ribs on the grate away from the heat, cover the grill, and cook the ribs until the meat is very tender and has shrunk back from the ends of the bones, 1½ to 2 hours. If you are using a charcoal grill, you'll need to add more coals after 1 hour.
OTES: To toast the sesame seeds, set a dry skillet over medium heat (do not use a nonstick skillet for this). Add the sesame seeds and heat them, tossing occasionally, until lightly toasted and aromatic, 3 to 5 minutes. Keep an eye on the sesame seeds; you don't want them to burn. Transfer the toasted sesame seeds to a heatproof bowl to cool.
You can make Korean cut short ribs by butterflying the meat, leaving slices of the rib bone intact or, as suggested here, you can use boneless short ribs. Ask a butcher to wrangle the boneless ones, cutting the meat into slices as thin as ¼ inch.
BARBECUE:
Roadside Apparitions and Realities

DRIVING OUT OF AUSTIN through the Hill Country, I broke for a barbecue stand. It was a crossroads lean-to, cobbled from timbers and roofing tin. Around back was one of those black barrel smokers, made from industrial piping. Cloaked in swirling smoke, fronted by a sign that reads something like Skeeter's Place, the whole setup looked like an apparition, like the barbecue stand of my dreams. Turns out that it was a dream of sorts. When I got out of my car, I saw that the stand was a mere facade and the smoke was coming from a machine. It was a set for the filming of a commercial.

Roadside barbecue is a fixture in the American South, my native region. Talk with Old Guard barbecue men and you learn that some of the region's beloved restaurants began when an enterprising cook dug an earthen pit by the highway near a busy intersection, laid in wood, refashioned a metal bedspring as a grill, and capped the pit with a sheet of roofing tin. There are fewer roadside stands these days. But some honest road food proprietors remain on the job. (By my definition, road food is the rural analog to urban street food.)

I've yet to find the Hill Country barbecue stand of my dreams. But I'm keen on a place in a gas station parking lot on the outskirts of Jackson, a Tennessee town between Memphis and Nashville. Shane Dempsey, the owner, sells smoked chicken quarters from a decommissioned U-Haul truck with a window cut in the side. "I can drive fifty-five miles an hour in this thing," he told me, "and it'll still be smoking."