TAMARIND-GLAZED FRIED CHICKEN DRUMMETTES
Posted On 12 สิงหาคม 2020
FRIED CHICKEN TAKES WELL TO SWEETNESS, especially to syrup and honey. Think of the modern chicken and waffles phenomenon, with its taproot at Roscoe's House of Chicken 'n Waffles in Hollywood. And think of the honey-dripped fried chicken popular in Virginia. The brown sugar in this recipe, inspired by the Asian Soul Kitchen, gets you to the same place. The sweet-sourness of the tamarind tamps things down before they get out of control.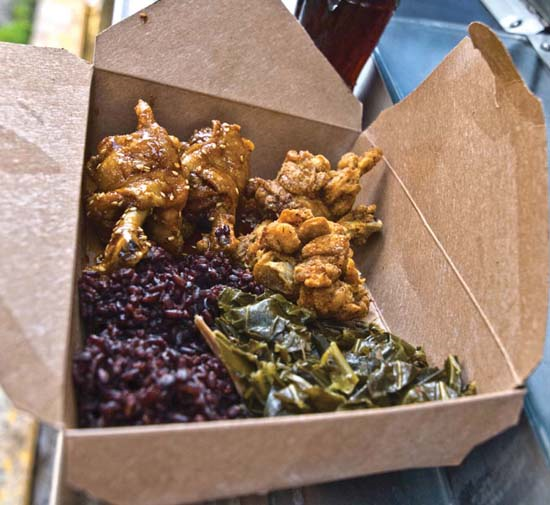 SERVES 4
½ cup cider vinegar
½ cup firmly packed brown sugar
1 package (14 ounces) tamarind pulp (see Notes)
1 teaspoon minced peeled fresh ginger
3 whole cloves
1 tablespoon grated orange zest
2 teaspoons salt
1 cup all-purpose flour
2 tablespoons cornstarch
1 teaspoon freshly ground black pepper
16 chicken wing drummettes (the meaty portion of the chicken wing)
Peanut oil, for frying the chicken
½ cup sesame seeds, toasted (see Notes)
Combine the cider vinegar and brown sugar in a small saucepan over medium heat and cook, stirring, until the brown sugar dissolves, about 5 minutes. Whisk in the tamarind pulp, ginger, and cloves, stirring to break up the tamarind pulp, and cook until the mixture becomes a thick glaze that coats the back of a spoon, about 15 minutes. Stir in the orange zest and 1 teaspoon of the salt. Remove the tamarind glaze from the heat and keep it warm.
Place the flour, cornstarch, pepper, and the remaining 1 teaspoon of salt in a shallow bowl and stir to mix. Dredge the chicken drummettes in the flour mixture.
Pour oil to a depth of 2 inches into a cast-iron skillet and heat over high heat until it registers 350°F on a deep fry thermometer. Working in batches and being careful not to overcrowd the skillet, carefully add the drummettes to the hot oil and cook until golden brown, 5 to 7 minutes. Using a slotted spoon, transfer the cooked chicken drummettes to paper towels to drain.
Toss the drained chicken drummettes in the tamarind glaze and sprinkle them with the toasted sesame seeds before serving.
NOTES: Tamarind pulp is sold in Indian and Mexican grocery stores and some supermarkets. Look for a brand such as Goya, which already has its seeds and strings removed.
To toast the sesame seeds, set a dry skillet over medium heat (do not use a nonstick skillet for this). Add the sesame seeds and heat them, tossing occasionally, until lightly toasted and aromatic, 3 to 5 minutes. Keep an eye on the sesame seeds; you don't want them to burn. Transfer the toasted sesame seeds to a heatproof bowl to cool.
LAST SEEN
South Grand Avenue between West Third and Fourth Streets, Los Angeles, California

ASIAN SOUL KITCHEN

This project is the work of the husband and wife team of Akiko Konami and Richard Wright (no, not that Richard Wright). The vibe is multiculti. They keep Mexican Cokes iced in the cooler, along with Mitsuya brand cider. In addition to fried chicken and collard greens, Akiko and Richard serve panko-battered salmon croquettes that owe a debt of inspiration to Baltimore crab cakes.

If Asian-inflected soul food sounds like a conceit to you, they back up their cooking with a sound rationale. "You go to any inner-city neighborhood in America," lead cook Ralph "Snook" Barnes told me, "and you'll find Asian people frying chicken for black customers."
CIVIC IDEALISM:
How to Curate a Cart Scene
City governments tend to view street food in one of two ways. Some see carts as nuisances, as threats to so-called legitimate brick-and-mortar businesses. Those cities do their best to outlaw street food, basing their decision on health and sanitation arguments or decades-old laws that give back-door exclusivity to loose collections of hot dog vendors and pretzel mongers.
The other sort of city government regards street food carts and trucks as small businesses in the making. Mayors and council people in these enlightened cities think street food vendors help foster small business. They believe that street food brings more people into the streets, which is a key component in making a city safe and pleasantly livable.
The curation of street food—like the curation of street life—is not effortless. The mayor of Cleveland, Ohio, knows this. In June of 2009 he announced his intention to create a food cart program that would, in the words of the local newspaper, "turn Cleveland's sidewalks into an urban buffet."
Mayor Frank Jackson's vision of the plan was a nonprofit organization that would manage the program, selecting and overseeing the carts. The city's economic development office would lend the program money for the purchase of new carts. Once up and running, the cart operators would pay a monthly usage fee, which would in time pay down the $400,000 debt incurred for the new carts. Civic idealism, it seems, comes with a price tag.