CHORIZO TACOS WITH EGGS
Posted On 30 กรกฎาคม 2020
SERVED IN CARDBOARD BOATS imprinted with a red-and-white plaid, these tacos, jumbled with paprika-spiked chorizo, trail a ruddy and flavorful skein of grease. In this recipe, inspired by the work of the Montanos at El Ultimo Taco, the eggs are plancha-fried, their yolks and whites barely combined. This is taco truck fare at its simple best.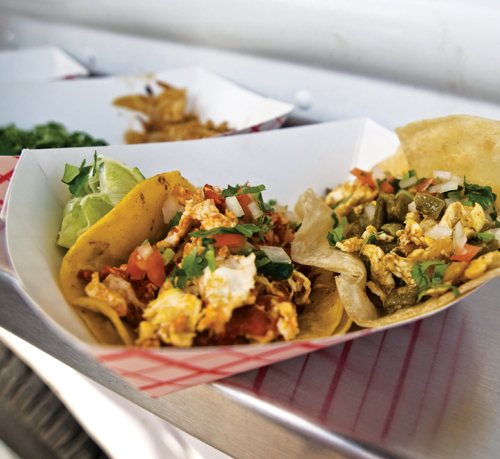 MAKES 4 SMALL TACOS
1 small onion, chopped
¼ cup chopped fresh cilantro
4 small (6 inches each) flour tortillas
6 ounces good-quality fresh Mexican chorizo
8 large eggs, lightly beaten
Combine the onion and cilantro and set aside.
Heat a skillet over medium heat and warm the tortillas one at a time in the skillet until pliable, about 30 seconds on each side. As you work, wrap the tortillas in a clean kitchen towel to keep them warm.
Heat a large skillet over medium-high heat. Remove and discard the casings from the chorizo, crumble the chorizo into the skillet, and cook it until browned, 4 to 5 minutes.
Reduce the heat to medium, add the eggs to the skillet, and cook, stirring, until the egg and chorizo mixture is set to taste. Divide the scrambled eggs and chorizo equally among the 4 tacos. Garnish each with some of the onion and cilantro mixture, then fold up the tortillas, if desired.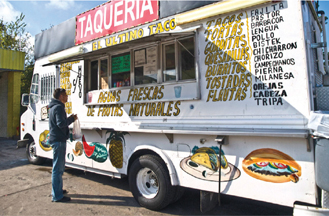 LAST SEEN
7403 Long Point Road, Houston, Texas

EL ULTIMO TACO

The stucco walls of an adjacent car stereo dealership throb with what sounds like a south of the border riff on rap. Spray from a car wash, set perpendicular to the stereo dealer, settles over the shiny white taco truck owned by Frederico and Vera Montano.

The menu, painted on the side of El Ultimo Taco's truck, advertises an encyclopedia of Mexican eats, from tortas to gorditas, but the wheelhouse dishes here are breakfast tacos, tucked in flour tortillas, capped with raggedy onions and hashed cilantro. Eat from the fold-down stainless steel shelf that runs the length of the truck, in sight of the trash can that's strapped to the back bumper, and you can hear the low murmur of Spanish in the kitchen and the frequent scrape of the cook's spatula on the flattop grill.