TORITOS
Posted On 17 กันยายน 2020
AT THEIR MOST BASIC, toritos are stuffed güero chiles, cooked on a flattop grill until they brown and then blister. Seafood trucks in Tucson stuff blond and stubby güeros with shrimp and serve them as appetizers. The cheese-stuffed güeros peddled by hot dog vendors are more common.
Ruiz Hot-Dogs, set in a mesquite-shaded gravel lot on Sixth Avenue, serves one version. Even better, at Oop's Hot Dogs Martin Lizarraga stuffs his chiles with mozzarella and wraps them in bacon. As the bacon crisps on the flattop, the mozzarella turns to a pleasant goo. The following recipe was inspired by Oop's. Serve it alongside your hot dog.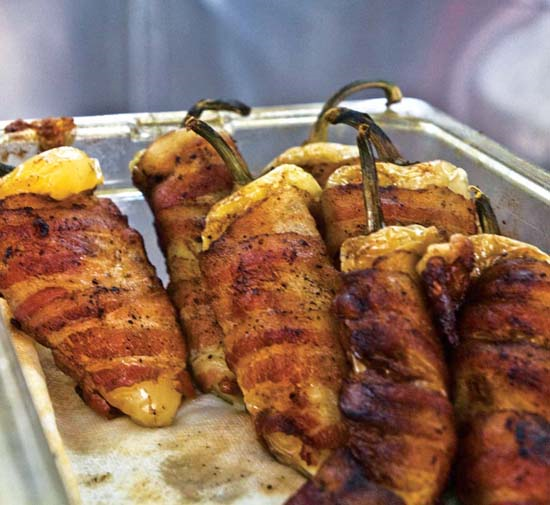 MAKES 6 STUFFED PEPPERS
6 güero chile peppers (small, hot, yellow peppers), Hungarian wax peppers, or hot banana peppers
6 chunks of mozzarella or other white melting cheese, cut into chubby sticks
6 thin slices of bacon
Rinse the peppers under cold running water and pat dry with paper towels. Cut a slit in each pepper but leave the stem and bottom point intact. Scrape the seeds out of the cavities and stuff the mozzarella inside.
Wrap a slice of bacon around each pepper. Place the stuffed peppers in a skillet over medium-high heat and cook them, turning as needed, until the bacon is brown and crisp. If you are not serving the toritos immediately, keep them in a warm oven.
LAST SEEN
East Ajo Way and South 6th Avenue, Tucson, Arizona

OOP'S HOT DOGS

YOU CAN'T MISS THE BLUE VAN painted with a hip-hop–inspired hot dog cartoon character, wearing oversize sunglasses, giving a thumbs-up to passersby. That logo is the masterwork of Oop's proprietor Martin Lizarraga, who learned to construct Sonoran-style hot dogs in his native Hermosillo.

There, Martin told me, crumbled chorizo is a common topping. Chopped bacon, too. And cucumbers mixed with crema. Here, health department regulations cut down on such expressive hot dog riffs. Here, a fellow learns to express himself in other ways, through, say, hip-hop hot dog cartoon characters—and toritos.