CHICKEN CHEDDAR BACON PASTIES
Posted On 13 มิถุนายน 2020
THE DOUGH EMERGES from the oven looking rumpled and misshapen. The pasty sags in the middle from the sheer caloric heft of the ingredients. It oozes with puddles of creamy cheese and golden chicken. Initially conceived as a portable meal for laborers, LMN O'Pies' Madison iteration of the pasty requires a cardboard box for carriage and a fork for eating.
MAKES 4 LARGE PASTIES OR 6 SMALL PASTIES
3 tablespoons butter
3 tablespoons all-purpose flour
½ teaspoon salt
½ teaspoon freshly ground black pepper
1½ cups milk
1 cup grated cheddar cheese
LMN O'Pies Pasty Dough (recipe follows)
2 cups cooked and cubed boneless chicken
½ cup crumbled cooked bacon
1 egg, beaten
Preheat the oven to 375°F.
Melt the butter over low heat in a small saucepan. Stir in the flour, salt, and pepper. Gradually add the milk and cook, stirring until thickened, 5 to 7 minutes. Remove from the heat and stir in the cheddar cheese. Keep the cheddar sauce warm.
Remove the pasty dough from the refrigerator, divide it into 4 balls, and roll it out following the directions in the dough recipe. Fill each circle of dough with about ½ cup of the chicken, some of the crumbled bacon, and spoonfuls of the cheddar sauce to coat. Brush the edges of the dough with the beaten egg and then bring the sides of the dough together to meet in the middle. Pinch the edges together to make a good seal.
Place the pasties on a baking sheet and bake until golden brown, 10 to 15 minutes. Serve quick as a wink.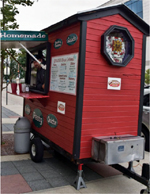 LAST SEEN
100 block of Martin Luther King Jr. Boulevard, Madison, Wisconsin
LMN O'PIES
WHEN I ASKED PAUL, the counterman at LMN O'Pies, how to pronounce pasties, he said in reply, "Pah-sty is what I say. Pay-sties are for nipples." He also told me that the pasties of Michigan's Upper Peninsula are, as I suspected, the inspiration for this red hut on wheels, parked catercorner from The Dandelion. (The Upper Michigan pasties were more than likely inspired in turn by the pasties that migrant tin miners from Cornwall, England, once favored.)
The distance from Michigan to Wisconsin has afforded Lindsay Gehl, the baker behind LMN O'Pies, certain liberties. And she has taken those liberties, which is how I came to stand on Martin Luther King Jr. Boulevard, in the shadow of the state capitol building, and eat a chicken and bacon pasty, sauced with ranch dressing, and a brace of miniature cherry pasties.