MIGAS TACOS
Posted On 10 มิถุนายน 2020
A TEX-MEX STANDARD, migas are built on a base of stale corn tortillas that have been crisped, sauced, and scrambled with eggs. Traditionally served as a breakfast plate, migas are now popular in Austin as taco fillings. In this recipe, adapted from Torchy's Tacos, the texture and lime-kissed taste of the corn tortillas play well off the flour tortilla wraps. By the way, if you're curious about the word migas, the Spanish translation is "crumbs."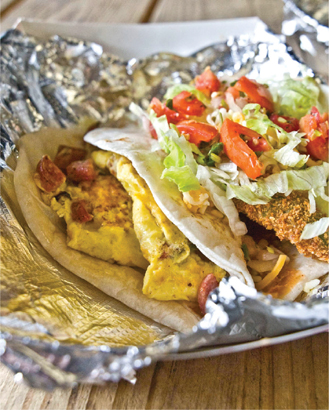 Read about the Torchy's Tacos truck 
MAKES 4 SMALL TACOS
FOR THE MIGAS
2 cups vegetable oil, for frying
4 corn tortillas (6 inches each), cut into ¼-inch strips
FOR THE TACOS
4 small (6 inches each) flour tortillas
1 tablespoon butter
1 tablespoon milk
4 large eggs, beaten
2 tablespoons chopped roasted Hatch-style green or Anaheim chiles
2 tablespoons Calexico Pico de Gallo
½ cup shredded cheddar or Jack cheese
1 avocado, peeled, pitted, and sliced
Roasted Red Salsa (recipe follows), for serving
Make the migas: Heat the oil in a deep fryer or Dutch oven over high heat until a deep fry thermometer attached to the side of the pot registers 350°F. Carefully add the corn tortilla strips to the hot oil and cook until crisp, about 2 minutes. Using a slotted spoon, transfer the tortilla strips to paper towels to drain, then set them aside.
Make the tacos: Heat a skillet over medium heat and warm the flour tortillas one at a time until pliable, about 30 seconds on each side. As you work, wrap the tortillas in a clean kitchen towel to keep them warm.
Melt the butter in the milk in a skillet over medium-high heat. Add the eggs, and once the eggs start to form a skin on the bottom, add the green chiles and the fried tortilla strips. Cook, stirring, until the egg mixture is set to taste, about 2 minutes.
Divide the egg mixture equally among the 4 flour tortillas. Top each with some of the pico de gallo, shredded cheese, and sliced avocado, then fold up the tortillas, if desired. Serve the tacos with the Roasted Red Salsa.