CROQUE MONSIEUR "TACOS"
Posted On 28 กุมภาพันธ์ 2020
JASON UMLAS HAS A THING for hot sauces. Last time I looked, he was stocking more than twenty varieties, including a brand called Texas Soda Pop, which played very well off the confectioners' sugar garnish on a waffle taco take on the croque monsieur made with chicken, Swiss cheese, and ham.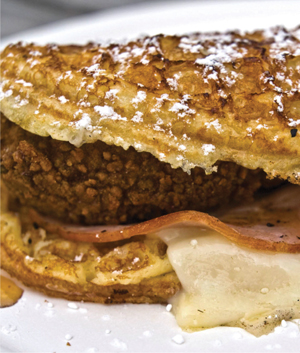 SERVES 4
FOR THE CHICKEN
2 cups all-purpose flour
1 tablespoon salt
1 tablespoon freshly ground black pepper
1 tablespoon chili powder
1 tablespoon store-bought seasoned salt
1 tablespoon paprika
2 cups buttermilk
2 cups canola oil, for frying the chicken
4 chicken tenders (about 1 pound total)
FOR THE CROQUE MONSIEUR "TACOS"
4 slices ham (see Note)
4 Lucky J's Waffles (Lucky J's Waffles)
8 slices Swiss cheese
1 teaspoon confectioners' sugar
Hot sauce (optional)
Prepare the chicken: Mix 1 cup of the flour with the salt and pepper in a small shallow bowl and set it aside. In a separate shallow bowl, mix the remaining 1 cup of flour with the chili powder, seasoned salt, and paprika and set it aside. Pour the buttermilk into another small bowl.
Pour oil to a depth of 1 inch into a cast-iron skillet and heat over medium-high heat until the oil registers 340°F on a deep fry thermometer.
Dredge the chicken tenders first in the flour, salt, and pepper mixture, shaking off the excess flour. Then dip the chicken tenders in the buttermilk until thoroughly coated. Dredge the buttermilk-coated tenders in the flour and seasoning mixture and shake off the excess flour.
Cook the chicken tenders in the hot oil until golden brown and cooked through, about 5 minutes. Using a slotted spoon, transfer the chicken tenders to paper towels to drain.
Make the Croque Monsieur "Tacos": Warm the slices of ham in a skillet over medium-high heat for about 1 minute. Set the ham aside.
Place a waffle in the skillet and heat it for about 1 minute. Turn the waffle over and place 2 slices of Swiss cheese on top. Place a slice of warmed ham on top of the cheese. Place a chicken tender on one side of the waffle and fold the waffle in half. Repeat with the remaining waffles, cheese, ham, and chicken. Sprinkle the waffles with the confectioners' sugar and hot sauce, if desired, before serving.
NOTE: You can substitute 8 slices of cooked bacon for the ham.
A Croque Monsieur "Taco" from Lucky J himself. You might need a few napkins to wipe the sugar off your beard.