AUSTIN: THE AIRSTREAM AESTHETIC
Posted On 1 มีนาคม 2020
San Antonio has long been known as the premier street food city in Texas. That reputation was built on the work of the Chili Queens, Mexican women who, in the late 1800s and early 1900s, sold chili con carne from jerry-rigged stands on Military Plaza and then on Market Square.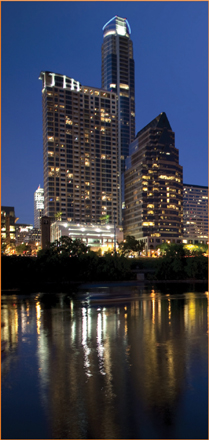 Austin has its own street food legacy. Tamales were the capital city's portable food of choice in the early years of the twentieth century, sold by men and boys who pushed charcoal-burning carts through the streets. In the early 1920s Delphino Martinez worked just such a cart on Congress Avenue. And Matt, his elementary school–aged son, worked alongside, stoking the coals. (Out of that grew Matt's El Rancho, the fifty-plus-year-old Austin Tex-Mex institution.)
Matt was not the only seat-of-his-pants entrepreneur to build an Austin business on street food. In the late 1970s, Maria Corbalan, a native of Argentina, invested her tax return in a taco trailer, which she painted to resemble an adobe bungalow. Over time that trailer begat an outsize restaurant, Maria's Taco Xpress, that has come to codify the hippified Tex-Mex genre.
And still the Austin street food scene booms. Drive down Cesar Chavez Street and a trailer pops into view every few blocks. They're selling pork al pastor, sliced from a spinning cone of pineapple-topped meat and tucked into a corn tortilla, or scrambled eggs and chorizo, sluiced with chile de árbol salsa and folded into a steaming white wheat tortilla.
In the fall of 2009, more than one thousand licensed mobile food vendors worked Austin's streets. (Just five years prior, the number hovered around five hundred.) Some of those recent additions are workaday trucks, peddling an odd and unrooted mix of burgers and burritos to day laborers. But a goodly number of the new carts are comparable to Man Bites Dog, parked since November of 2009 in the South Austin Trailer Park & Eatery, alongside Torchy's Tacos and Holy Cacao.
Man Bites Dog claims a rectangular concession trailer. Jeremiah Allen, the proprietor, is a onetime bartender who until recently worked for a start-up company making a device that measures alcohol levels in breast milk. Nowadays he serves chicken sausage dogs with sweet corn relish and Frito pies topped with chopped wienies.
Gourdough's Big Fat Donuts opened in October of 2009. Perched alongside a drive-thru espresso stand on South Lamar Boulevard, it is of a similar ilk. College students
play Hacky Sack in the pebble parking lot. Speakers blast the latest band that claims to be the rightful heir to the Grateful Dead legacy. This is not breakfast food for morning commuters. Gourdough's opens at eleven and closes as late as three in the morning. And the menu includes a yeast doughnut gorged with hot pepper jelly and slicked with cream cheese icing.
Gourdough's does business in a retrofitted Airstream trailer. Those silver trailers are a defining element of the Austin retail culture. On South Lamar alone, a realtor, a pet groomer, and DeFresh Mode, a raw foods trailer serving "meatless goodness," all do business in Airstreams.
A more recent entry in the unconventional structure category is the shipping container restaurant, pioneered by La Boîte, a pastry and coffee café perched on a South Lamar hill between a yoga studio and The Texas Cuban trailer. Peeled back like a stylish sardine can, outfitted with blond veneer walls, fronted by oversize folding windows that open onto a patio, La Boîte may not foretell the future of portable restaurants. But it turns heads. (And its sausage brioche, made with maple sausage, is stellar.)
Change in the Austin scene is sure to come. Rapid expansion will likely compel new regulations from the city government and new solutions from business owners. The most plausible next step for street food in Austin may be adoption of the Portland pod model.
Among the players hoping to serve that need will be the Whip In, a reinvented convenience store off I-35 that flies under the banner "South Asian food, South Austin mood." They're planning the Whip In Spot, a "six-pack of trailers," featuring food carts parked in a beer garden.