CUBANO SANDWICHES
Posted On 10 ตุลาคม 2020
A PROPER CUBANO SANDWICH is pressed flat until the weight of the griddle and the goo of the cheese seal shut the envelope into which the pork and ham have been stuffed. While most cubano recipes rely on roast pork shoulder, this sandwich, inspired by Eric Smith and Hector Ward at The Texas Cuban, is built on a base of roast pork tenderloin.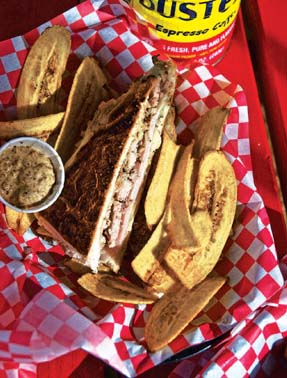 MAKES 4 TEXAS-SIZE SANDWICHES
4 Cuban sandwich rolls, or 4 French bread sandwich rolls
4 tablespoons (½ stick) butter, at room temperature
Thinly cut dill pickle slices
About 1 pound sliced roasted pork (see Note)
4 tablespoons store-bought or homemade Mojo Sauce (recipe follows)
1 pound sliced ham
8 slices Swiss cheese
Yellow mustard
Using a knife, split the sandwich rolls in half and spread butter on the inside and outside of each half. Arrange the pickle slices and the slices of pork on the bottom half of each roll. Sprinkle 1 tablespoon of mojo on top of the pork. Top the mojo with slices of ham, then place 2 slices of Swiss cheese on the ham. Spread yellow mustard on the cut side of the top half of each roll and place these on the sandwiches.
Heat a griddle or skillet over high heat. Arrange the sandwiches topside down on the hot griddle or skillet, using the bottom of another skillet to press down hard on the sandwiches as they cook. Cook the sandwiches to toast the roll, 1 minute, then flip the rolls and continue cooking until the cheese melts, about 1 minute more, being careful not to let the rolls burn. Slice the sandwiches in half diagonally before serving.
NOTE: If you decide to roast a pork tenderloin, remember it cooks quickly in a 350°F oven. An average tenderloin weighs a little less than a pound and cooks in about 20 minutes.
LAST SEEN
South Lamar Boulevard and Collier Street, Austin, Texas

THE TEXAS CUBAN

ERIC SMITH works for a video game designer. He didn't want to commit to a full restaurant for this moonlight entrepreneurial endeavor. "Real restaurants are scary," he told me. "But if I fail here, what am I out? I sell my trailer on eBay and walk away."

Eric is a Texan. His partner, Hector Ward, late of the band Sigmund Fraud, is of Cuban ancestry. Thus the mashup known as The Texas Cuban, set in a rectangular trailer, painted glossy black, parked on a ragged patch of barren land across from a transmission repair shop.

When I asked how the two cultures fused in the trailer, Eric said, "We make our Cuban sandwiches to Hector's Cuban specs. But we make them big—for Texas." While we were talking, and I was thinking about how a Cuban sandwich shop establishes Texas provenance, I noticed that Eric and Hector source that most Texan of soft drinks: Dr Pepper, sweetened with true cane sugar and bottled in Dublin, Texas.