ETHIOPIAN LENTILS
Posted On 12 ตุลาคม 2020
WITH YAMS
THE INTERPLAY OF EARTHY LENTILS and sugar-kissed sweet potatoes defines this Buraka dish. In Africa a call for yams will get you the stringy tubers that are native to that continent. Here, it gets you garnet-hued sweet potatoes.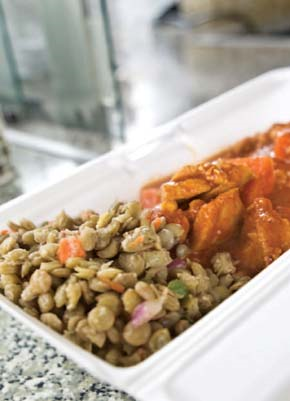 SERVES 4 TO 6
1 tablespoon olive oil
1 large sweet potato, peeled and cut into 1-inch cubes
1 red bell pepper, stemmed, seeded, and diced
1 onion, diced
3 cloves garlic, minced
1 teaspoon minced peeled fresh ginger
½ cup dried split red lentils
1 tablespoon tomato paste
2 teaspoons Berbere Spice Mix (recipe follows)
Salt and freshly ground black pepper
Heat the olive oil in a heavy skillet over medium heat. Add the sweet potato, bell pepper, onion, garlic, and ginger and cook the vegetables, stirring occasionally until they start to soften, about 8 minutes.
Add the lentils, tomato paste, spice mix, and 2 cups of water, stir to mix well, and bring to a boil. Reduce the heat and let the lentils simmer until they are soft and all of the water is absorbed, 20 to 30 minutes. Taste for doneness. Season the lentil mixture with salt and black pepper to taste and serve immediately.
Berbere Spice Mix
IN A TYPICAL GROCERY YOU CAN BUY Greek-style seasoning in little yellow canisters, Cajun-style seasoning in fat green canisters, various Mediterranean spice mixes, and on occasion something called Tuscan Sunset spice mix. I've rarely, however, seen a north African berbere mix, which is a shame because this stuff tastes great with everything from stews to french fries. This version was inspired by the spices used by the Buraka food cart.
MAKES ABOUT ½ CUP
3 tablespoons paprika
5 teaspoons crushed red pepper flakes
2 teaspoons ground cumin
1 teaspoon ground cardamom
1 teaspoon ground coriander
1 teaspoon ground ginger
1 teaspoon ground turmeric
1 teaspoon salt
1 teaspoon freshly ground black pepper
½ teaspoon ground allspice
½ teaspoon ground cloves
½ teaspoon ground cinnamon
Place the paprika, red pepper flakes, cumin, cardamom, coriander, ginger, turmeric, salt, black pepper, allspice, cloves, and cinnamon in a small bowl and whisk to mix well. Store the spice mix in an airtight container.
SING A SONG OF OKRA:
Music from the Street

HUNCHED IN A library carrel, with headphones on, I once spent an afternoon listening to street vendor cries. I can still hear the voice of a Gullah vendor from 1950s Charleston, South Carolina, who sang of blackberries in a Little Richard falsetto. I remember listening to Ninevah Whitley, the New York City fishmonger of the 1930s who shouted

Fish man!
Bring down your dish pan!
If you ain't up, get up!
If you ain't down, get down!
Come on down
Get around
Fish ain't but five cent a pound.

At the Library of Congress, I read transcriptions of performances by Si Custis. He was a Mississippi pit master of the 1920s, famous for shouting

Ice cold lemonade!
Made in the shade
Stirred with a spade
Good enough for any old maid!

Those voices are, by and large, gone from the streets of modern day America. One artist working to keep them alive is Olu Dara, a jazz musician born in Natchez, Mississippi, and now living in Brooklyn, New York. In 1998 he cut a solo album, In the World: From Natchez to New York. One of the tracks, "Okra," paid homage to the calls of street vendors.

"We called him the Coal Man," Olu told me, speaking of the hawker who, during the 1940s, was a constant on the streets of Natchez. "I don't think I ever knew his real name. He sold coal, but we knew him by his fruits and vegetables. Strawberries, blackberries, dewberries, whatever was growing; that's what he sold. You could smell the freshness before you heard him coming."

Olu's lyrics play like an homage to the men and women who once trundled our avenues and alleyways, selling fruits and vegetables, shrimp and fish, homemade liquor, too. But Olu's music is not bound by the constraints of folklore. With his lyrics, his lilting voice, his bright cornet, his effervescent guitar, Olu has revivified a vocation.