LEMON CREPES
Posted On 11 เมษายน 2020
ZBIGNIEW CHOJNACKI parks his red Jeep Cherokee behind the cart and uses it for storage. That's where he keeps the plastic goods for La Dominique Crêperie. And the crates of lemons. He takes pride in sourcing the best ingredients. He hand cuts all of his fruits and vegetables. His meats are organic and his eggs are free range. He refuses to accept that street food is lowest common denominator food. To watch him craft a lemon crepe is to watch a man who cares deeply about the simple details that, in aggregate, make for great eats. This recipe was inspired by his work.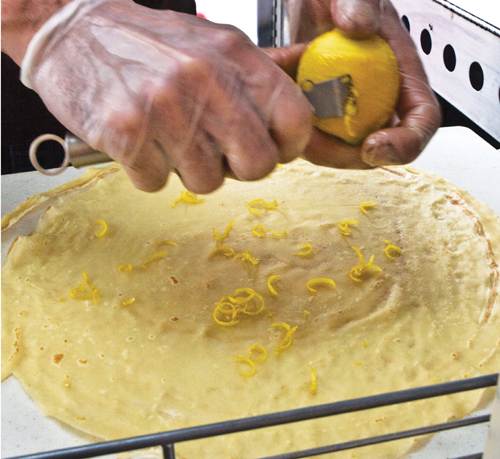 MAKES 4 CREPES
4 lemons
4 crepes (from Zbigniew Chojnacki's Crepe Batter, page 67)
¼ cup granulated sugar
¼ cup confectioners' sugar

Rinse the lemons and pat them dry with paper towels; then zest them. Squeeze the juice of the lemons through a fine sieve, discarding the seeds.
lace a crepe in a hot skillet to reheat it slightly. Sprinkle 1 tablespoon of granulated sugar on top of the crepe, followed by a quarter of the lemon zest. Drizzle some lemon juice all over the crepe and then, using a spatula, fold the crepe in half and in half again to create a cone shape.
Transfer the crepe to a plate and sprinkle more lemon juice over it, followed by a dusting of 1 tablespoon of confectioners' sugar. Repeat with the remaining crepes.
LAST SEEN
Market at 33rd Street, Philadelphia, Pennsylvania

LA DOMINIQUE CREPERIE

ZBIGNIEW CHOJNACKI is a sculptor of Polish birth who fled his homeland in 1984. He found great success in America. Out of his Philadelphia studio emerged intricately patterned jewelry and raku-textured female busts and torsos. But when art commissions slowed in 2007 he took a different tack. As a boy in Poland Zbigniew had made crepes with his mother. In 2007 the Philadelphia street scene lacked great crepes. So Zbigniew bought a one-man trailer, outfitted it with two crepe irons, and began again.

La Dominique Crêperie's menu is limited. Zbigniew's style is unhurried. His manner is idiosyncratic. A lanky man with an easy cartside manner, Zbigniew does not like to make breakfast crepes. They're unwieldy beasts, he says, overstuffed with sausage and such to suit his customers. Better to seek Zbigniew out in the afternoon when the crowds have died down and he can take his time, zesting lemons to order for a perfectly simple sugared lemon crepe.