PORTLAND AND THE DIY GESTALT
Posted On 12 พฤษภาคม 2020
In Portland, Oregon, they call them pods, these groupings of carts that function like food courts, where multiple vendors work a spot of blacktop that's about the size of a generous parking space.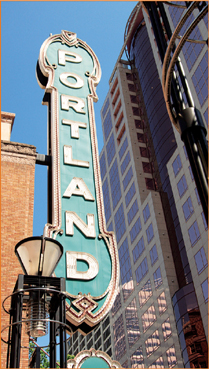 WHERE THE PODS ARE:
SW 10th between SW Washington and SW Alder.
SW 5th between SW Oak and SW Stark.
SW 3rd at SW Oak.
SW 4th at Portland State U.
As of this writing there are three primary weekday pods downtown and another in the college district. There are also pods in the leafy suburbs. And there's at least one late
night pod, where young drinkers on their way home from the bars scarf pocket pies and poutine and other deep-fried foods.
From the wrong angle, the clutch of carts at SW 5th Street between Oak and Stark looks like a gypsy camp, populated by the sons and daughters of traveling carnival folk. One downtown cart recalls the Child Catcher wagon from Chitty Chitty Bang Bang. Until recently, others were in service as camper vans.
From the right angle, however, another cart resembles an arts and crafts bungalow with brightly painted clapboard siding. And another is accessorized with a flower box, erupting with peonies, mounted beneath an order window. The Portland pod aesthetic is hand hewn and homegrown. It's a little funky. A little DIY. All of which is to say, it's representative of the broader Portland gestalt.
When street food advocates, no matter where they live, speak of American cities that serve as honest incubators of a street food scene, Portland is the name on the tip of everyone's tongue. Some cities try to legislate street food out of existence. Others see street vendors as the foes of brick-and-mortar businesses. The city of Portland grasps that pods are places where entrepreneurs with limited funds can take a chance on a new concept. Where operators who have brio but lack a flush bank account can make a go with their grandmother's recipe for chili con carne or their aunt's recipe for pho.
Portland has taken steps to support street life. In addition to maintaining city codes that are conducive to cart vendors, the city's bureau of planning commissioned Food Cartology, a study that found "food carts have a positive impact on street vitality and
neighborhood life and advance public values, including community connectedness and distinctiveness, equity and access, and sustainability."
Portland is a hip and green town. No doubt about that. There are carts that vend soy curls, a straightforward term for fake pork rinds made with extruded soy. A vegan can find tempeh, lettuce, and tomato sandwiches aplenty. And, yes, an abiding eco-consciousness defines the mores of both street food vendors and their customers. (You'll notice that, rather than carry their food away in a foam container, a goodly number of Portland cart customers bring their own bowls and plates.)
But there's nothing faddish about Portland's eco-consciousness. And there's nothing faddish about the street food scene here. In Los Angeles, you get the impression that while taco trucks are there to stay, the spike in gourmet trucks may be short. In Portland, where nothing is gourmet, but so much of the food is sourced and prepared with integrity, the pod-based revolution appears to be permanent. And it appears to be sustainable.