CHICKPEA FRIES
Posted On 26 พฤษภาคม 2020
THESE ARE, IN ESSENCE, rectangular chickpea fritters. This recipe, from Garden State, relies on many of the same techniques as its chickpea sandwich. Reach for Lemon Aioli to go with the fritters, or maybe just a swab of mayonnaise and a squeeze of lemon juice.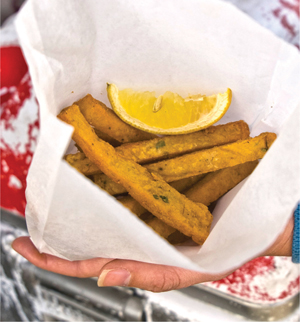 SERVES 4 TO 6
11/8 cups chickpea (garbanzo bean) flour (see Note)
Salt
½ teaspoon freshly ground black pepper
¼ teaspoon ground cumin
¼ teaspoon cayenne pepper
2 cups water
¼ cup chopped fresh flat-leaf parsley
2 quarts vegetable oil, plus oil for the sheet pans
6 lemon wedges, for serving
Lemon Aioli, for serving
Mayonnaise (optional), for serving
Place the chickpea flour, 1 teaspoon salt, and the black pepper, cumin, and cayenne pepper in a heavy pot over high heat and stir to mix. Gradually add the water while stirring with a flat-edged wooden spatula. You want to avoid lots of lumps of flour, but a few are okay. While stirring constantly, gradually lower the heat as the chickpea mixture thickens. The chickpea mixture is done once it pulls away from the side and bottom of the pot as you stir it, 10 to 15 minutes. When most of the water has been absorbed, add the parsley.
Lightly oil a rimmed baking sheet. Transfer the chickpea mixture to the baking sheet, spreading it out evenly so that it covers the pan completely. Oil the bottom of a second baking sheet. Place this pan on top of the chickpea mixture and press firmly to create a smooth, even surface, then remove the top pan. Let the chickpea mixture cool completely, then cut it into sticks that are ¼ inch wide and 2½ inches long.
Heat the oil in a deep fryer or Dutch oven over high heat until a deep fry thermometer attached to the side of the pot registers 350°F. Working in batches and being careful not to overcrowd the pot, carefully add the chickpea sticks to the hot oil and cook them until crisp and beginning to brown, about 4 minutes. Using a slotted spoon, transfer the chickpea fries to paper towels to drain. Lightly salt the fries and serve them with the lemon wedges and Lemon Aioli or mayonnaise, if desired.

NOTE: Chickpea (garbanzo bean) flour is available in health food stores and markets that specialize in Indian and African groceries.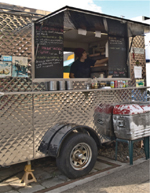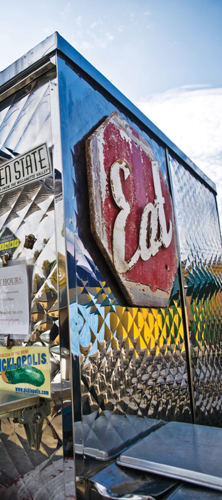 LAST SEEN
7875 SE 13th Avenue, in the Sellwood neighborhood of Portland, Oregon
GARDEN STATE

THE GARDEN IN QUESTION is not in Oregon, no matter how verdant the surrounding countryside might appear. No matter how fat the summer berries, how funky the fall mushrooms. The Garden State is New Jersey, where Kevin Sandri lived before he came to the Portland neighborhood of Sellwood.
Kevin works in the Italian genre. That translates into meatballs stuffed into crusty loaves; and arancini, saffron risotto balls laced with fresh mozzarella; and chickpea fries that a Frenchman might recognize as panisse, all served from a quilted, stainless steel cart that gleams when the afternoon sun hits it.