STARTER WAFFLES
Posted On 17 มกราคม 2000
WAFFLES ARE QUICK BREADS, pliable, accommodating, easy to tuck and roll. This basic recipe, inspired by Parkers Waffles & Coffee, will get you started. With these words as your guide, you'll make waffles with texture, waffles with integrity. Not too puffy, not too dense. Just right.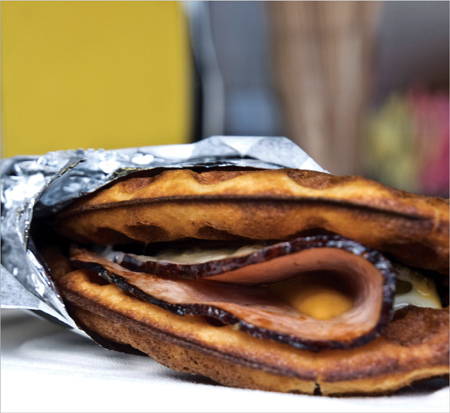 MAKES 4 WAFFLES
2 cups all-purpose flour
3 tablespoons granulated sugar
1 teaspoon baking powder
½ teaspoon baking soda
1 teaspoon salt
3 large eggs, lightly beaten
4 tablespoons (½ stick) butter, melted and cooled slightly
2 cups buttermilk
Vegetable oil spray (optional)
Parkers' Maple Butter (optional, recipe follows), for serving
 Combine the flour, sugar, baking powder, baking soda, and salt in a large mixing bowl and whisk to mix thoroughly.
Place the eggs and butter in another mixing bowl and whisk to combine. Whisk in the buttermilk. Pour the buttermilk and egg mixture into the bowl with the dry ingredients and stir gently until combined. Let the batter rest for a few minutes.
Heat a waffle iron following the manufacturer's instructions and, if necessary, lightly coat the surface with vegetable oil spray to prevent the waffles from sticking. Pour one quarter of the waffle batter into the waffle iron, close it, and cook the waffle until both sides are golden brown, about 5 minutes. Repeat with the remaining batter. Keep the waffles in a warm oven until ready to serve with the Maple Butter, if desired.
Set and ready for the morning rush.
SCOTT AND ABBIE TRIMBLE bought their trailer on Craigslist in the summer of 2009. It had previously been a pizza trailer. In July they parked it in the Portland State University pod of food carts.

Waffles with maple butter came first for the husband and wife team. Then waffles and gravy. Then waffles and chili. By the time they hit waffle-wrapped Reubens, their experimentation had reached its ridiculously sublime conclusion. With that concoction on the top of my mind, waffles and gravy seemed, well, normal.
Parkers' Maple Butter
IF YOU'RE PLANNING to walk with waffle in hand, smear one side with the maple butter, fold the waffle in half, and tuck the resulting crescent in a pouch made from, say, waxed paper. Walk, but watch for leaks.
MAKES ABOUT 1 CUP
8 tablespoons (1 stick) salted butter
½ cup pure maple syrup, preferably Grade B (see Note)
Place the butter and maple syrup in a small saucepan over low heat and stir constantly until the butter melts. Pour the Maple Butter into a small bowl and let cool at room
temperature to a spreadable consistency. Smear the butter on waffles or pancakes. The butter can be refrigerated, covered, for 1 week or frozen for up to 2 months.
NOTE: Grade B maple syrup is the darkest of the commercial grades of maple syrup and has an intense maple flavor.