LIEGE WAFFLES
Posted On 2 มีนาคม 2020
LIEGE IS A UNIVERSITY CITY on Belgium's eastern fringe. Most of the inhabitants speak French. And most of the inhabitants eat waffles as a street food. Liège-style waffles come with a hoary story of origin that involves the prince-bishop of Liège, his chef, his sweet tooth, a brioche recipe, some sugar, and a cast-iron waffle maker. These waffles, inspired by Wafels & Dinges, are not hoary. Instead, they're slightly puffy, made from a yeast dough, not a batter, are a little sour, and wholly addictive.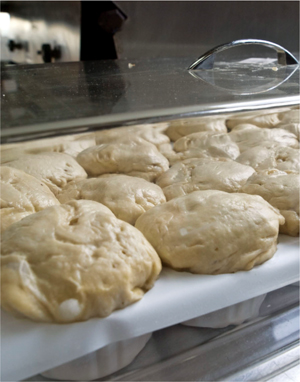 MAKES 6 TO 8 WAFFLES
1 envelope (¼ ounce) active dry yeast
4½ teaspoons granulated sugar
1/8 teaspoon salt
1/3 cup warm water
2 cups all-purpose flour
3 large eggs
1 cup (2 sticks) butter, melted and cooled slightly
1 cup pearl sugar (see Note)
Vegetable oil spray (optional)
Spekuloos Spread (optional, recipe follows), for serving
Place the yeast, granulated sugar, and salt in a mixing bowl. Add the warm water and stir until the sugar and salt dissolve. Let the yeast mixture sit in a warm place until it starts to bubble, about 15 minutes.
Place the flour in a large mixing bowl and make a well in the center. Pour the yeast mixture into the well, add the eggs and butter, and knead gently with your hands until a dough forms. Cover the bowl tightly with plastic wrap and let the dough sit at room temperature until it rises and doubles in volume, 30 to 45 minutes.
Gently mix the pearl sugar into the dough and let it rest for 15 minutes more.
Heat a waffle iron to its highest temperature, following the manufacturer's instructions, and, if necessary, lightly coat the surface with vegetable oil spray to prevent the waffles from sticking. Place a Ping-Pong to tennis ball-size portion of dough in the waffle iron, close it, and cook the waffle until both sides are golden brown, 3 to 5 minutes. Repeat with the remaining batter. Each waffle will emerge a different size and shape. They will have what you call "character." Serve the waffles with the Spekuloos Spread, if desired.
NOTE: Pearl sugar is a large-crystal sugar. It's available at specialty food stores.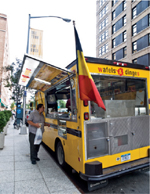 WAFELS & DINGES

THOMAS DEGEEST, the former IBM management consultant who owns Wafels & Dinges, likes to wear a T-shirt that reads "Belgian Ministry of Cultural Affairs, Special Envoy for Waffles." His truck, painted school bus yellow, is a diesel Grumman with a wide bay of windows that affords eaters a glimpse of the waffle men at work, flipping their waffles on rectangular, gas-fired irons with the sort of frenetic energy usually employed by cocaine-snorting DJs.

In the world of Wafels & Dinges, a waffle is a foil for toppings (that's what dinges are—toppings, like bananas, walnuts, and Nutella). As for the waffles themselves, DeGeest makes Brussels waffles, which are rectangular, light, and crisp. And he makes Liège waffles, which are irregularly shaped, slightly sour, and pleasantly chewy.

DeGeest and company broadcast tweets that instruct regulars who want free dinges to "Tell us what superpower you would like to have." Or, "Make your best Jack Nicholson face."