BOW TIE PASTA
Posted On 1 กรกฎาคม 2021
WITH BABY KALE & SUN-DRIED TOMATOES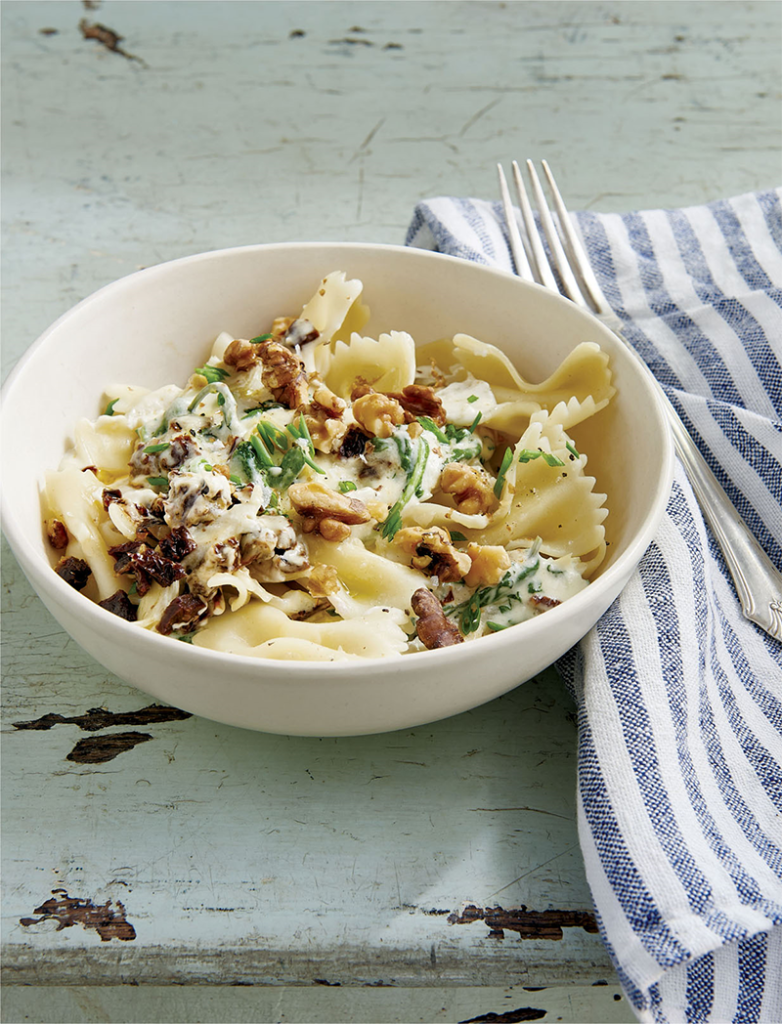 This creamy pasta dish is a huge crowd-pleaser, packed with all sorts of appetizing ingredients. But I think the thing that makes it really stand out is the toasted walnut and chive topping, which is unexpected and so good. This is perfectly filling and delicious just as is, but you can certainly add 2 cups shredded rotisserie or cooked chicken if desired. I serve it with my Quick Table Salad.
PREP:

10 minutes

COOK:

30 minutes

COOL:

none
Kosher salt
1 pound bow tie (farfalle) pasta
2 tablespoons extra virgin olive oil
2 garlic cloves, grated on a rasp grater
2 cups heavy cream
One 8-ounce block cream cheese, cut into pieces
1½ cups bagged shredded Parmesan cheese (about 6 ounces; see Note)
One 12-ounce jar marinated quartered artichoke hearts, drained and halved lengthwise
One 8.5-ounce jar oil-packed sun-dried tomatoes, drained and chopped
5 ounces baby kale or baby spinach (about 5 cups)
Freshly ground black pepper
½ cup chopped walnuts, toasted, for garnish
¼ cup minced chives, for garnish
Bring a large pot of generously salted water to a boil.

Cook the pasta until al dente according to the package directions.

Drain the pasta well and return to the pasta pot.

Meanwhile, in a large skillet, heat the olive oil over medium heat.

Stir in the garlic and sauté for 1 minute.

Add the cream and cream cheese and cook, stirring often, until melted.

Add the Parmesan and whisk constantly until well blended.

Gently stir in the artichokes and sun-dried tomatoes.

Add the baby kale and salt and pepper to taste.

Pour the cream sauce over the drained pasta and gently toss to coat, taking care not to overstir or break up the pasta.

Spoon into bowls and top each with toasted walnuts and chives.

Serve hot.

Store leftovers in a covered container in the refrigerator for up to 4 days.
Makes 6 servings
NOTE: For best results and texture here, use shredded rather than grated Parmesan.
Cr. Magnolia Table ; A Collection of Recipes for Gathering [Joanna Gaines]