ROAST DUCK TACOS
Posted On 1 กุมภาพันธ์ 2021
THE INSPIRATION IS MU SHU DUCK, a hoisin-swabbed staple of Chinese-American restaurants. Jonathan Ward, whose recipe you will find here, buys his duck each morning at a restaurant in Chinatown. Back at the kitchen, he picks the carcass clean of meat. If you don't have access to the sort of Chinese restaurant that displays lacquered ducks in the window, go ahead and roast your own.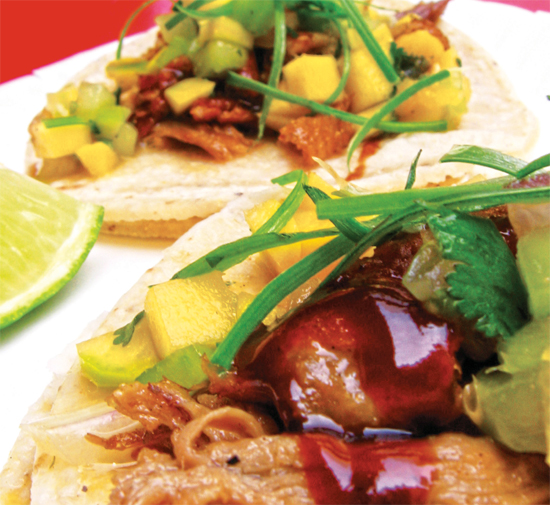 MAKES 12 SMALL TACOS
1 whole roast duck (about 2 pounds)
1 bunch scallions
Ice water
12 small (4 to 6 inches each) corn tortillas, store-bought or homemade
2 cups Mango Salsa (recipe follows)
¾ cup Spicy Hoisin Sauce
Pull all of the duck meat off of the bones and discard the bones. Shred the duck meat and set it aside.
Cut the green parts off the scallions, setting the white parts aside for another use. Cut the scallion greens into 3-inch pieces, then slice them lengthwise into very thin strips. If desired, place the scallion slivers in a small bowl of ice water and set them aside. The ice water will curl the scallion slivers in a lovely way.
Heat a skillet over medium heat and warm the tortillas one at a time in the skillet until pliable, about 30 seconds on each side. As you work, wrap the tortillas in a clean kitchen towel to keep them warm.
Place a small amount of the shredded duck on each of the warm tortillas, spoon on some Mango Salsa, then drizzle about a tablespoon of the Spicy Hoisin Sauce on top. Garnish each tortilla with a few of the scallion slivers.
NOTE: You can substitute flour tortillas for the corn ones.
Mango Salsa
THIS SALSA PLAYS WELL off the duck. Of course, the pairing of sweet and gamy flavors is traditional. Come to think of it, that may be the only traditional taste that comes off Kung Fu Tacos' bright yellow truck.
MAKES ABOUT 2 CUPS
2 firm red mangoes, peeled, pitted, and diced
1 cucumber, peeled and diced
1 red onion, diced
1 jalapeño pepper, stemmed, seeded, and diced
1 bunch fresh cilantro, leaves only, chopped
2 tablespoons freshly squeezed lime juice
1 teaspoon kosher salt
¼ teaspoon freshly ground black pepper
Combine the mangoes, cucumber, red onion, and jalapeño in a mixing bowl. Add the cilantro, lime juice, salt, and black pepper and mix gently to incorporate. The salsa can be refrigerated, covered, for up to 2 days.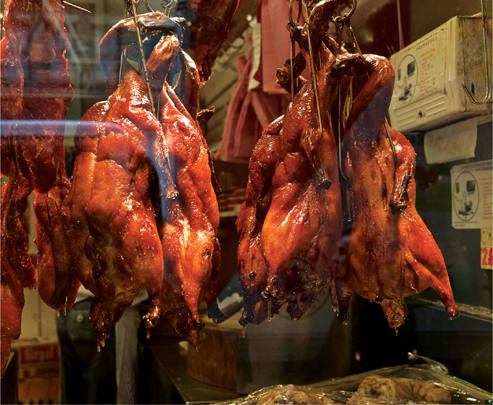 HOISIN SAUCE IS DARK BROWN, almost black, in color and sweet on the tongue. Soy is a primary flavoring. And so is sugar. Taking into account the sweetness, some call this stuff Chinese barbecue sauce. Jonathan Ward of Kung Fu Tacos uses Lee Kum Kee brand hoisin. But he wisely cuts the sugar with a searing hit of Sriracha.
MAKES 1½ CUPS
1 cup hoisin sauce
½ cup Sriracha hot sauce
Place the hoisin sauce and the Sriracha in a small mixing bowl and mix well. The sauce can be refrigerated, covered, for up to 1 week.
ONE SUMMER DAY IN 2009 Jonathan Ward, a dot-com bust survivor, and Tan Truong, proprietor of the Candybar, a dessert and cocktail lounge in the San Francisco neighborhood known as the Western Addition, planned a road trip to Los Angeles to feed at the Kogi food truck altar. But they pulled up short, Jonathan told me, when they realized they already had their own formula.

"My wife is Chinese," Jonathan said. "But I was thinking about Korean tacos. Why would I try Korean tacos when I could try Chinese tacos? So I texted Tan. I wrote 'char siu taco.' And he wrote back 'brilliant.' "By August, the partners had purchased a twenty-five-year-old taco truck, refurbished it, coined the name Kung Fu Tacos, and hit the streets, selling Nun Chuk Chicken and Wu Shu Char Siu.

TROMPE L'TRUCK: Mistakes Were Made

THE SEARCH FOR STREET FOOD requires taking a fresh look at your surroundings. Walking the Mission District in San Francisco, I recognized that some women were wheeling wire clothes hampers. And some women were wheeling wire clothes hampers topped with quilts to hide a cooler full of chicken tamales, threaded with hashed jalapeños.

Not all of my investigations were successful. Driving through Santa Barbara in search of an elusive Kogi truck, I caught a glimpse and made a hard right. I was, at the time, three wrong turns into my quest for a Korean quesadilla. And there it was. Shining bright. Hugging the curb. A City of Santa Barbara garbage truck.

In New York City, on the Lower East Side, I once purchased knishes from a fellow who dealt his foil-wrapped goods from a shopping cart. On that same trip, I tried to buy a sandwich from a man who was cooking on a George Foreman grill set on an overturned shopping cart. "No man, I'm homeless," he said when I asked about the price. "Leave me alone."